Scandal-hit Sepp Blatter named 'Swiss of the Year'
Published 12/17/2015, 12:08 PM EST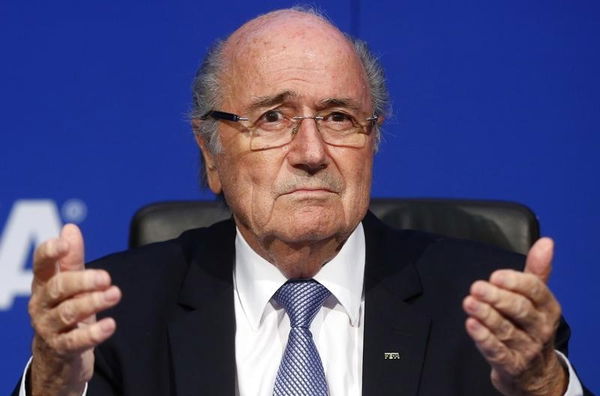 ---
---
ZURICH (Reuters) – Suspended world soccer chief Sepp Blatter was named "Swiss of the Year" on Thursday by a weekly magazine in his native Switzerland, on the same day he appeared before a FIFA ethics committee to face questioning in a corruption scandal.
ADVERTISEMENT
Article continues below this ad
Blatter is under investigation in Switzerland on suspicion of criminal mismanagement and misappropriation of funds at FIFA, the global soccer body which is also at the centre of a huge FBI corruption probe. He denies any wrongdoing.
"Sepp Blatter has deserved the title of 'Swiss of the Year' for years. We're now informally bestowing it late," right-wing magazine Die Weltwoche wrote.
ADVERTISEMENT
Article continues below this ad
The often contrarian publication said its publisher, Roger Koeppel of the far-right Swiss People's Party (SVP), was one of Blatter's few public defenders. It said Blatter, who has led FIFA since 1998, had never won due recognition in his home country for his work to promote the growth of soccer around the world.
Blatter, featured on the cover, told the magazine: "I'm a grounded person. I don't have a Ferrari; I just co-own a pedalo on Lake Zurich."
ADVERTISEMENT
Article continues below this ad
As for FIFA: "I can say without any false modesty: it's a little bit my FIFA, which I built in all those years," the 79-year-old said.
Blatter, who is due to step down as FIFA president on Feb. 26 when his successor will be elected, faces the prospect of being banned from the sport for years. He arrived for Thursday's FIFA ethics committee hearing in Zurich in a chauffeur-driven vehicle with one of his lawyers.
Defenders of Blatter say he did much to develop the sport, including by taking the showpiece World Cup to new countries like South Africa, which hosted it in 2010, and Russia and Qatar, which are due to do so in 2018 and 2022.
ADVERTISEMENT
Article continues below this ad
In another accolade on Thursday, Russian President Vladimir Putin said Blatter was "a very respected person" who deserved to win the Nobel Peace Prize.
(Reporting by Brenna Hughes Neghaiwi; Editing by Mark Trevelyan)