Serbia vs Albania match abandoned as Drone illuminates clashes
Published 10/15/2014, 9:33 AM EDT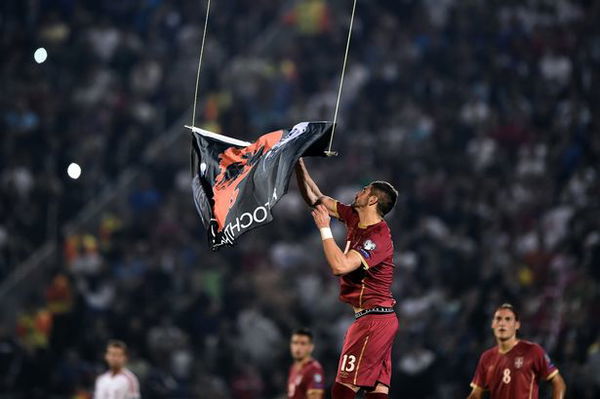 ---
---
The UEFA  Euro 2016 qualifier between Serbia and Albania was called to a halt and was later abandoned after a dreadful clash took place between players of both the sides and the spectators. The clash followed after a drone flew above the pitch which carried some political message.
ADVERTISEMENT
Article continues below this ad
When the drone flew above the pitch, Serbian defender Stefan Mitrovic pulled it and after that several Albanian players rushed towards him to take the flag and eventually riot flared inside the pitch in which the spectators from the stands got into the fight. The game which had stopped at 40' (score 0-0) was officially declared abandoned by UEFA after 30 minutes of halt.
UEFA match delegate Harry Been said (as per BBC SPORT)
ADVERTISEMENT
Article continues below this ad
"It is a regretful situation on which we will report; the referee, myself and the security adviser. The circumstances were such that we couldn't continue the match. You all saw what happened and I cannot comment on who is to blame or what to blame. I will submit a report with my colleagues to UEFA and UEFA will decide what will happen further."
Serbian B92 Television journalist Milos Saranovic, who was at the match, told BBC Sport:
 "The whole atmosphere before the game was that Serbia and Albania was more politically sensitive than any other game.I cannot remember for years so many police at the stadium. Everything looked like a situation that is not normal.One small stupid situation made an explosion – that is the shortest way to describe the incident of the night.The players have usually been able to keep the atmosphere on the pitch normal. The game was normal for 40 minutes with no small accident on the pitch but when that flag appeared, the heat was going up."