Serie A Side Cagliari Unpunished In Spite of Romelu Lukaku's Monkey Abuse Video Coming Out
Published 09/05/2019, 8:04 AM EDT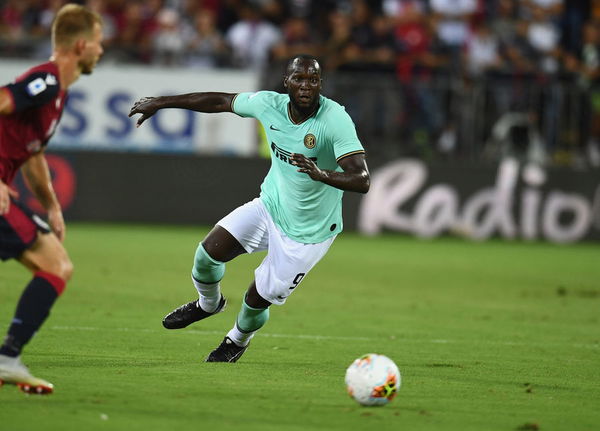 Serie A side Cagliari have escaped punishment yet again, after multiple reports against their fans racially abusing players. Only a few days back, the Cagliari fans were heard singing monkey chants against Inter Milan striker Romelu Lukaku.
ADVERTISEMENT
Article continues below this ad
Following the incident Lukaku released a statement to eradicate racism.
"Football is a game to be enjoyed by everyone and we shouldn't accept any form of discrimination that will put our game in shame," the statement read.
ADVERTISEMENT
Article continues below this ad
"I hope the football federations all over the world react strongly on all cases of discrimination!!! Social media platforms (Instagram, Twitter, Facebook…) need to work better as well with football clubs, because every day you see at least a racist comment under a post of a person of colour. We've been saying it for years and still no action.
"Ladies and gentlemen, it's 2019, instead of going forward we're going backwards and I think as players we need (to) unify and make a statement on this matter to keep this game clean and enjoyable for everyone."
A video with voices of the Cagliari fans chanting against Lukaku also came out.
But the Italian side once again escaped punishment after Serie A released a statement saying it will not specifically condemn the club.
Cagliari have been guilty of similar incidents last season, when Moise Keane and Blaise Matuidi were subjected to racial abuse.
Serie A statement on Lukaku racism incident at Cagliari. No condemnation of Cagliari specifically (despite a long list of transgressions) but a new anti racism initiative will be launched in October. pic.twitter.com/CRGk3AAdvi

— Alex Thomas (@alexthomascnn) September 2, 2019
However Curva Nord, understood to be a dedicated fan group of Inter Milan released a statement on Facebook saying that the monkey chants were not exactly racist, but they were signs of respect.
"Hi Romelu. We are writing you on behalf of Curva Nord, yes the guys who welcomed you at your arrival in Milan," the statement read. "We are really sorry you thought that what happened in Cagliari was racist. You have to understand that Italy is not like many other north European countries where racism is a REAL problem."
The statement said that the chants were ways to help their team by making the opponents nervous, and not to take it racism.
"In Italy we use some "ways" only to "help our teams" and to try to make our opponents nervous, not for racism but to mess them up."
ADVERTISEMENT
Article continues below this ad
"We are a multiethnic fans organization and we have always welcomed players from everywhere. However, we have always used that "way" with other teams' players in the past and we probably will in the future."
"We are not racist and so are not the Cagliari fans."
"You have to understand that in all Italian stadiums people cheer for their teams but at the same time they use to cheer against the opponents not for racism but to "help" their own team."
ADVERTISEMENT
Article continues below this ad
"Please consider this attitude of Italian fans as a form of respect for the fact they are afraid of you for the goals you might score against their teams and not because they hate you or they are racist."
The statement went on to claim that the Italian fans weren't racist and that the fight against such issues must begin from the school age.