Serious Sam 4 Gameplay Trailer Revealed
Published 07/12/2020, 3:45 PM EDT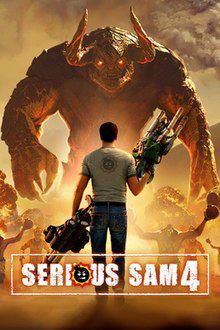 Serious Sam has been a part of our childhood for many of us. Starting from 2001, the series has come a long way. The latest installment in the series, Serious Sam 4, is scheduled to release this year. This title is going to be a treat to hardcore fans of the franchise as it explores the backstory of the character.
ADVERTISEMENT
Article continues below this ad
The third installment in the series picked up the storyline before the first invasion. Serious Sam 4 is a prequel to the entire series. Although, the detailed storyline of the game is not yet known.
Croteam has been pretty consistent with the franchise, releasing spin-offs during the years between two main title releases.
ADVERTISEMENT
Article continues below this ad
Further reading: Fortnite: Pro Shows How To Deal With Bullies
Devolver has launched a gameplay trailer for Serious Sam 4 today
Gear up with Sam Stone and set off on yet another rampage with all guns blazing against aliens in the classic Serious Sam fashion. The graphics have visibly improved since the 2017 release of the third title. Even with improved visuals, the game managed to retain the old-school feel of the game.
ADVERTISEMENT
Article continues below this ad
Further reading: Assassin's Creed Valhalla Release Date Leaks Ahead of Ubisoft Event
Serious Sam 3: BFE brought some new features to the game, like, iron sight and sprinting, and removed the regenerating health. The use of iron sights was kind of impractical in the close range too since it only made a minor improvement to the accuracy. The gameplay reveal trailer for the fourth installment, however, does not show the use of iron sights so we are not sure if the game will retain this feature. But the trailer does give us a sneak peek into the available arsenal in the game, and boy, are we impressed!
This one will be a trip down memory lane
ADVERTISEMENT
Article continues below this ad
As we said before, Serious Sam 4 picks up the events before the first encounter and deals with the backstory of the series. This is something the hardcore fans of this franchise have been asking for quite some time. This game is going to be an immediate trip down to the school days, but with better graphics.
Looks like 2020 is going to be a bad year for monsters, with Doom Eternal on one hand, and THE Sam Stone on the other. We sure are excited about this one!