Sexwale feels sorry for banned FIFA president Blatter
Published 01/12/2016, 2:13 AM EST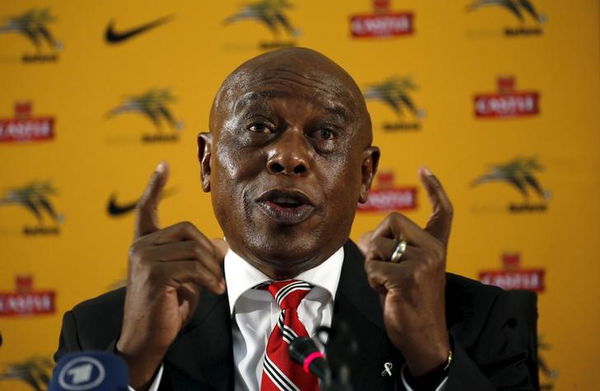 ---
---
LONDON (Reuters) – FIFA presidential candidate Tokyo Sexwale feels sorry for Sepp Blatter, the banned president of soccer's scandal-plagued governing body, and has described his work as a "monument."
ADVERTISEMENT
Article continues below this ad
Sexwale, a South African businessman and politician, is one of five candidates standing to replace Blatter, who has been banned for eight years along with European soccer boss Michel Platini by FIFA's ethics committee.
"I feel very sorry for him," Sexwale told Sky Sports. "He is a friend. I've spoken on the phone to Blatter and Platini, and they are leaders so they have to deal with it. "They have to face their mistakes, but let's not bury the good that they have done." Blatter was FIFA president from 1998 until December, and had previously been Secretary General.
ADVERTISEMENT
Article continues below this ad
The Swiss had prided himself on promoting football development around the world and being head of FIFA when South Africa became the first African nation to host the World Cup in 2010.
"Blatter's work is a monument that stands for itself. It is a mountain that cannot be moved," said Sexwale.
"It is up to the ethics committee what happens. The damage done is for posterity but it is not like they've murdered or committed genocide.
"It is a game. We are there to understand and carry on their good work and learn from their mistakes."
Blatter and Platini were both banned over a payment of 2 million Swiss francs ($2 million) made to the Frenchman by FIFA with Blatter's approval in 2011 for work done nearly a decade earlier.
ADVERTISEMENT
Article continues below this ad
The sport faces criminal investigations in Switzerland and the United States, where 41 soccer officials and sports entities have been indicted on corruption charges. Switzerland's prosecutor is also investigating FIFA's award of the 2018 and 2022 World Cup finals to Russia and to Qatar, a small, wealthy desert country with no real football tradition. Both venues were chosen at the same vote in Zurich in December 2010.
"On the Qatar World Cup bid, we should never have a double bid for a World Cup again," he added. "It's up to executive committee and lawyers, not just up to me to decide. FIFA the collective have to decide."
The other candidates to replace Blatter at the Feb. 26 election are Asian football boss Sheikh Salman Bin Ebrahim Al Khalifa, Prince Ali Bin Al Hussein of Jordan, former FIFA deputy secretary general Jerome Champagne of France and UEFA secretary general Gianni Infantino.
ADVERTISEMENT
Article continues below this ad
"Black is just colour," said Sexwale. "All (FIFA) leaders have been white. This is a diverse world. The colonial era has passed. It would be correct for Europeans to show we have all come of age."
(Writing by Brian Homewood in Zurich, editing by Pritha Sarkar)