Shaquille O'Neal Responds to Being Poked Again For Losing the MVP Award to Steve Nash
Published 04/23/2021, 6:30 AM EDT ---
---
What fans have learned over the years is that some rivalries in the NBA never die. Players can hold on to grudges for years, especially when these grudges were formed as a result of the player losing something. The same goes for Shaquille O'Neal and Steve Nash, who have always had a bit of a bitter relationship because of Nash winning MVPs over Shaq. Even today, when someone brings it up, Shaq claims that he deserved those awards far more than Nash.
ADVERTISEMENT
Article continues below this ad
Shaquille O'Neal still furious about Nash winning MVP
Kobe Bryant and Shaquille O'Neal were the once-in-a-generation kinds of players. Yet, when it comes to winning MVPs, they lacked drastically. In fact, the two of them combined have as many MVPs as Steve Nash has by himself. This does not sit well with Shaq even today.
ADVERTISEMENT
Article continues below this ad
The NBA on TNT crew never fails to keep things entertaining, and they always come up with topics that start a fiery conversation. A while ago, Steve Nash had made an appearance on it and Shaq's beef with him came to life in a subtle way. Towards the end of the segment, Shaq had thrown a jab at Nash for stealing the MVP awards, which Shaq thinks belonged to him.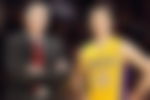 Now, in another discussion, Shaq and Charles Barkley got into an argument about Nash's MVP award. While Barkley blatantly said that Nash was a better player, Shaq responded, "He had a better record but Steve Nash has never been the most dominant guy."
What was the reason behind Nash winning the award?
Nash won the award twice in a row from 2005 to 2006. The first time he won, Shaq ended up as the runner-up, and the second time he won, Kobe landed fourth in the voting. Despite Shaq putting up better numbers, Nash got the award.
ADVERTISEMENT
Article continues below this ad
In the first season, Nash averaged 15.5 points and 11.5 assists, but Shaq averaged 22.9 points, 10.4 rebounds, and 2.3 blocks. However, Nash's team, the Phoenix Suns, were having one of their most dominant stretches, and being its leader, Nash was given the award.
Do you think Nash deserved the award more than Shaq? And did he deserve it even more than Kobe?
Read also-  'Purely a Money Situation': Jeanie Buss Denies Kobe Bryant's Role in Shaquille O'Neal's Trade From Lakers
ADVERTISEMENT
Article continues below this ad