Shock And Anger – Players React To The Cancellation Of Indian Wells
Published 03/09/2020, 12:27 PM EDT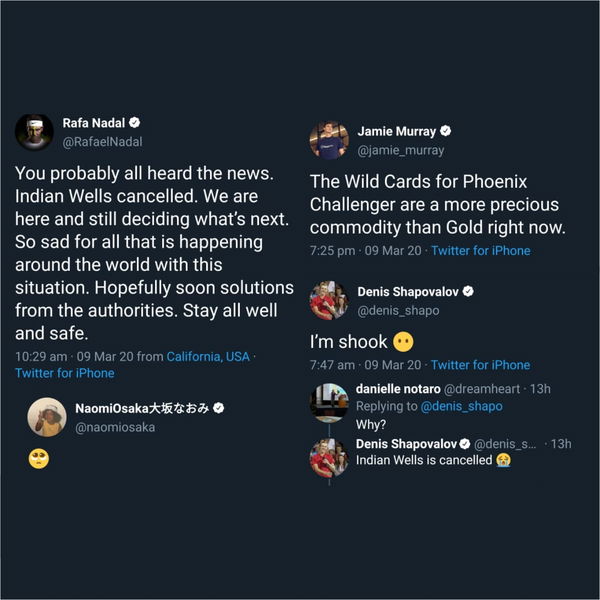 ---
---
The Indian Wells Masters 2020 has officially been called off due to the ghost of Coronavirus that has continuously been haunting the world in the recent past. As reactions start rolling in, there is shock, anger and dismay at this big news.
Before going into the reactions, let's take a quick recap of the events that transpired. A public health emergency had been declared in the Coachella Valley, where Indian Wells is located. This was after a case of Coronavirus had been confirmed in the region. Medical experts advised the organizers of the tournament that an event of this scale could be disastrous in the current circumstances.
This sent panic waves across the tournament functionaries and a quick decision was taken. Finally, tournament director Tommy Haas made the unfortunate announcement. He was also hopeful that the tournament could be held at a later date. However, considering the packed tennis schedule, that looks highly unlikely.
Know More – Indian Wells Masters 2020 Announce The Worst News Of The Year
Fans and players have had mixed reactions to the announcement. While some have welcomed the decision and called it necessary, others have termed it as a panic-stricken move. Others including WTA CEO Steve Simon agreed with the idea of organizing the event behind closed doors.
However, this was shot down as it was not a financially viable idea. This is because of a majority of revenue for running a big event like this cones from ticket money. Apparently, broadcast money is too low for it.
Without further ado, let's take a look at the player reactions from across the tennis spectrum.
How did players react to the cancellation of the Indian Wells? 
Some players including Rafael Nadal expressed sadness over the unfortunate news –
While others were shocked over this happening. This echoed the reactions of many other fans. Shock is what many of us feel right now –
There were also players who were not impressed by the attitude displayed by the authorities. While some thought that communication with players was poor, others called it a plain overreaction –
Some of them talked about what they'll do, now that the tournament isn't happening –
Which stream of thought do you align with over the cancellation if Indian Wells Masters?