SHOCKING: Aircraft with a Message Flies over Edgbaston again during The Ashes 2019
Published 08/02/2019, 7:31 AM EDT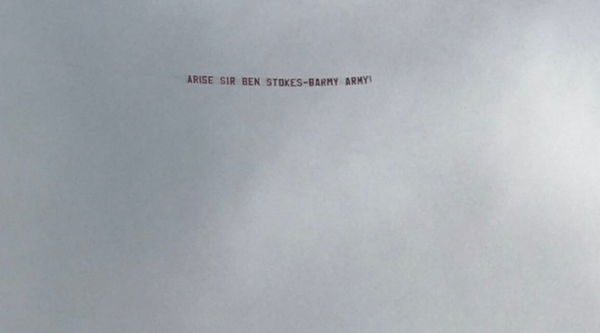 ---
---
Inside one hour of day two in the first test of The Ashes 2019, a few minutes after James Pattinson dismissed Jason Roy, a whizzing sound of a plane was audible to everybody within the stadium as well as to those watching on Television. Even before anyone could take a look at what was flying, many had already guessed it. Many went back to ICC Cricket World Cup 2019, where on more than one occasion, planes were seen flying over the stadium during a cricket match, carrying a message on a banner.
ADVERTISEMENT
Article continues below this ad
The guesses turned out right as the cameraman followed the sound and once again, to much astonishment, it was an aircraft with a banner attached to it.
Edgbaston reads "Arise Ben Stokes" during The Ashes-
ADVERTISEMENT
Article continues below this ad
This time, the message did not seem to contain any political reference, as it did on previous occasions during the World Cup. Though the sound, in the beginning led to fears of one more political threat, it turned out to be a tribute to England all-rounder Ben Stokes from Barmy Army.
"Arise Sir Ben Stokes- Barmy Army," the message read.
While the message in itself does not seem too dangerous, the government's inability to control the airspace on multiple occasions now, could be seen as a huge problem.
The message was clearly intended towards England all rounder Ben Stokes, but the context of the message is not understood. It might be a tribute to Ben Stokes for his match-winning innings in the World Cup finals.
The aircraft continued to hover over Edgbaston for more than just a few minutes.
Planes flying during the World Cup 2019-
During the World Cup, messages involving politically sensitive regions of Kashmir in India and Balochistan in Pakistan were displayed, which led to some unrest.
ADVERTISEMENT
Article continues below this ad
Even the second semi-finals of the World Cup, also at Edgbaston, witnessed one such incident after England declared Old Trafford as a no flying zone for the first semi-finals involving India and New Zealand.
BCCI had issued a warning after England Cricket Board and the English government failed to prevent it from repeating. But they couldn't avoid it for a third time in the World Cup, and now, for a fourth time in The Ashes.
The uproar over the incidents died down when the dramatic nature of the World Cup finals between England and New Zealand overshadowed all the news over the course of the tournament.
ADVERTISEMENT
Article continues below this ad
This time Barmy Army used an aircraft as a tribute to Stokes.
But then what is the source of the planes that flew during the World Cup. It could range from a dangerous criminal organisation to a silly prank. Either way, the issue calls for a serious look into it.