SHOCKING: Dead body Found Inside the House of Mohamed Elneny
Published 07/29/2019, 6:42 AM EDT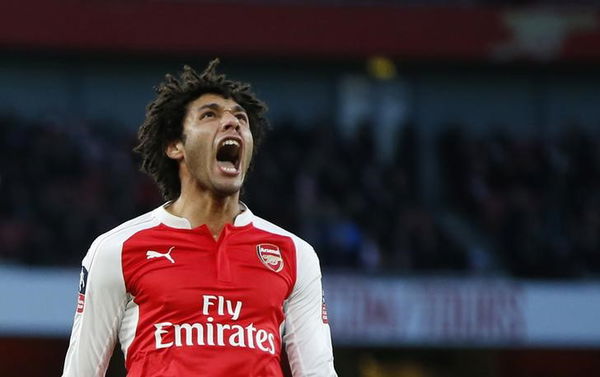 In what was a shocking to hear, Arsenal mid fielder, Mohamed Elneny had a dead body in his house. Italian newspaper Gazetta dello Sport write that Elneny's dad, who made the horrible discovery, immediately called the police. He immediately notified the police after he found "a lifeless body inside his son's home."
ADVERTISEMENT
Article continues below this ad
Elneny's situation is truly terrifying. Imagine being told by your father that your house is home to a lifeless body. So many questions arise, with so much ambiguity.
According to the website 24.ae, the dead body was found 'in the patio' at his home which is currently under construction. Police are currently investigating the case after Elneny's dad reported the horrifying incident.
ADVERTISEMENT
Article continues below this ad
The body is yet to be identified officially. Also, the suspicions of a criminal activity involved is still unclear. It is still a huge question if Mohamed Elneny has anything to do with it.
Elneny joined Arsenal in 2016 January transfer window from Swiss club FC Basel. In three years with the North London giants, the Egypt international has made 89 appearances, scoring just two goals.
ADVERTISEMENT
Article continues below this ad
There have been reports recently of the club wanting to offload him under Unai Emery.
Sun Sport recently reported that he was believed to be one of three players offered to Crystal Palace in the hope of luring Wilfried Zaha to the Emirates.
Elneny also missed the friendly against Lyon making the way much easier for the exit rumours to spread.
ADVERTISEMENT
Article continues below this ad
Arsenal in a terrifying news- Again
Arsenal have been involved in a horrific news outside the football pitch, twice in very little time. The news of the dead body inside Elneny's house comes less than a week of Mesut Ozil's car being attacked by two knife wielding men. Sead Kolasinac had very bravely fought the two men, helping everybody escape the incident unharmed. A video of the incident had also broken out.