Shroud and Other Streamers Take Part in Bud Light Seltzer Tournament
Published 09/03/2020, 1:09 PM EDT

Follow Us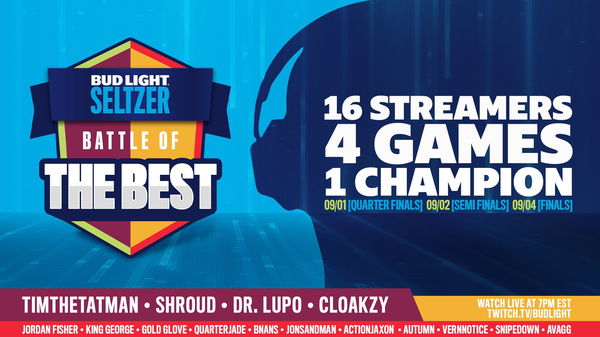 The Bud Light Seltzer streamer tournament will feature sixteen top streamers from around the world, including Shroud. "Battle Of The Best" will have the best streamers competing in a few different games. However, there will be one unified champion who takes it all. The action can be watched on http://twitch.tv/budlight starting 9/1 at 7 pm EDT.
ADVERTISEMENT
Article continues below this ad
Sixteen steamers, four games, one champion – that is the punchline. The four games that they will play are Call Of Duty Warzone, Fall Guys, Halo, and Golf with friends. With names like Dr. Lupo, Cloakzy, and TimTheTatMan in the list, expect some high octane action, along with the customary banter. The event will take place over four days, starting from September 1. 
When it comes to Halo, there is no one as good as Snipedown. Even Shroud was worried sick when Snipedown was his opponent in one of the rounds. In the stream-clip uploaded on Youtube Shroud said, "We are playing against Snipedown and honestly, I am not ready. My body is not ready to play against Snipedown." Shroud's expression said it all.
ADVERTISEMENT
Article continues below this ad
Bud Light Battle of the Best streamers tournament
In the Halo matches, fans saw Shroud squaring off with the likes of Dr.Lupo and TimTheTatMan in separate matches. While all three of them are known for their insane skills, Shroud has the drop over these two when it comes to Halo. He displayed that during the CTF (Capture The Flag) round, as he maintained steady pressure on the opponent team.
There will be four different games, amongst which four teams will be drawn for several rounds. Each team will play the other three on three different maps. Thus, the format is more of a league-knockout system. 
ADVERTISEMENT
Article continues below this ad
The captains and where to watch the tournament
ADVERTISEMENT
Article continues below this ad
The players who are taking part in the tournament will be streaming it live on their Twitch accounts. Along with this, the tournament can also be watched on Bud Light's official Twitch account. The live broadcast will start each day at 4 PM PST. Over the course of four days, a champion will rise to be called Best Of The Best.
The tournament captains are as follows: Shroud, Snipedown, DrLupo, GoldGlove, TimtheTatman, Vernnotice, Cloakzy, Jordan Fisher, ActionJaxon, King George, Bnans, Jonsandman, Autumn, Avagg, and QuarterJade.