Shroud Explains the Difference Between Valorant and CSGO During a Hilarious Rant
Published 02/11/2021, 1:51 PM EST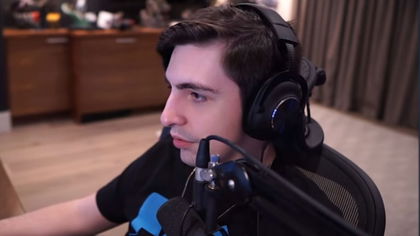 ---
---
Michael "Shroud" Grzesiek has a knack for being one of the best players in the genre of FPS games. He is one of the best pure aimers ever and most of the time, if he shoots, it's probably hitting right in the center of the opposite player's forehead.
ADVERTISEMENT
Article continues below this ad
But while having a comparatively terrible game of Valorant with iiTzTimmy, bnans and Fuslie, he explained a few differences between the game and his old stomping grounds of CS:GO.
ADVERTISEMENT
Article continues below this ad
Shroud rages while playing Valorant
In Round 8 of the match, Michael has an easy kill on the opposing team's woeful Jett with a 4 on 3 scenario. But he completely misses his shots, and the Jett takes Shroud's kill, to everyone's disbelief. For a player of his caliber, it is rare to miss a target. Michael realizes and rages hard by banging on his desk.
Later on, he had a poor game by his standards with a lot of misses and losing chances for easy kills. The team lost 13-10 which is extremely rare for a team led by Michael. The chance of that decreases more when the game was an unrated match, like the one he lost. Michael then talks about how badly he plays the game.
"Bad, I am so bad, How am I just garbage at this video game."

Michael talks about Valorant and CS:GO
During the game, Michael offered his two cents on the difference between the two popular games of the genre in Valorant and CS:GO. He rants about how the shooting mechanics works differently. He also tells why it's much harder to shoot in Valorant.
"In CS, it's f****** easy, you just hold Mouse 1 always. You can't f*** it up, Literally you can't. All you do is hold Mouse 1."
ADVERTISEMENT
Article continues below this ad
"In this game, you need to find the in-betweens and I f****** suck."
When a comment from a viewer mentioned he would have won that fight two years ago, Michael also talks about how he misses headshots. He believes that most of his shots hit the shoulders as the heads are much higher from the chest in Valorant compared to CS:GO.
Shroud spoke about the differences between the two games and how it will affect the future for both the games. When the game had just released, he talked about how different it was from CS:GO and how the two games might move in the future. Safe to say that whatever games Shroud will play, chances are he is probably going to be the best player in the team.
ADVERTISEMENT
Article continues below this ad