Siddle deflated by 'shock' omission from New Zealand test
Published 11/05/2015, 3:55 AM EST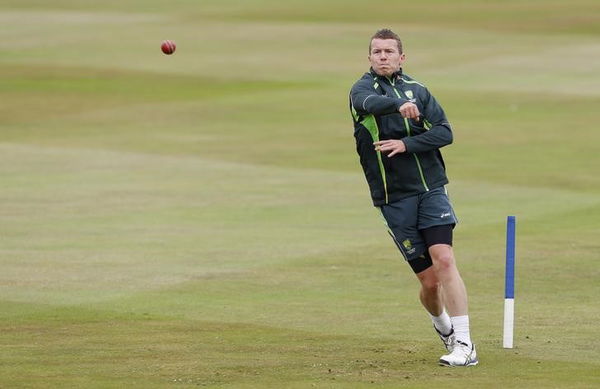 MELBOURNE (Reuters) – Australia paceman Peter Siddle has expressed his disappointment with his omission from the series-opening test against New Zealand, having clawed his way back into the squad after months on the sidelines.
ADVERTISEMENT
Article continues below this ad
Siddle was overlooked for the Brisbane test, which started earlier on Thursday, in favour of Josh Hazlewood, who took the third seamer spot to join left-armers Mitchell Johnson and Mitchell Starc in the pace attack.
It was a tough blow for 30-year-old Siddle, who helped bowl Australia to victory in the team's last test match, a dead rubber against England, after having been ignored for the first four matches of the 3-2 Ashes defeat.
ADVERTISEMENT
Article continues below this ad
Siddle was released from 12th man duties at the Gabba to prepare for home state Victoria's Sheffield Shield match against New South Wales in Sydney starting on Friday.
"It was obviously (a) disappointment," Siddle told local broadcaster Fox Sports at Brisbane airport on Thursday.
"It's always disappointing to miss out but especially after, obviously, the Ashes and how I finished up over there."
"Yeah, it's obviously a bit of a shock but there's not much I can do it about. I've just got to be ready when the opportunity comes."
From being one of Australia's first bowlers picked, 57-test Siddle has been relegated to a bit-part player over the past year, with selectors promoting Starc and Hazlewood.
Siddle was picked for only one of Australia's four tests against India during the last home summer and spent most of the Ashes carrying the drinks.
"It is a little bit (frustrating) after coming back in and waiting so long to get that opportunity again and do so well makes it a bit harder to take this time round," he added.
ADVERTISEMENT
Article continues below this ad
"But as I always say, I could be a lot further away from the team than I am at the moment so, it's obviously not all bad.
"Over the last 12 months it's probably been a little bit different than it has been in the past for me personally … In the last 12 months I've been sort of on the outer a little bit and thereabouts.
"So I didn't get too far ahead of myself… I knew it was going to be a tough decision and sadly it was me to miss out."
ADVERTISEMENT
Article continues below this ad
After Brisbane, Australia play New Zealand in Perth and wrap up the three-match series with test cricket's first day-night fixture in Adelaide.
(Reporting by Ian Ransom; Editing by Greg Stutchbury)