Simply Imagining Playing With NFL Giant Tom Brady Left 161lbs F1 Champ Lewis Hamilton Stammering His Sentences: "I Would Run The Opposite Way"
Published 08/18/2022, 5:30 PM EDT

Follow Us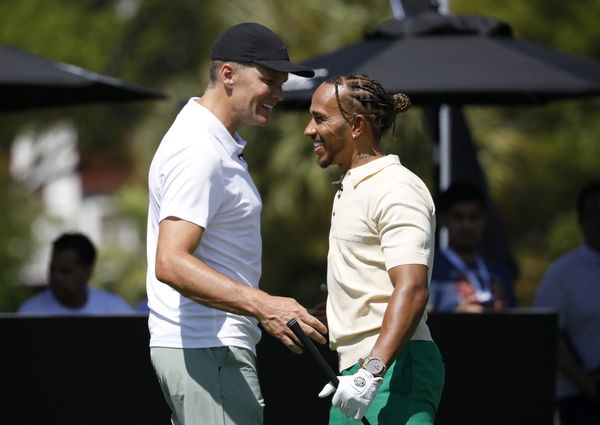 Ever imagined what would happen if Tom Brady and Lewis Hamilton were on the same football pitch? Tom Brady and Lewis Hamilton have already cemented their position as the Greatest of All Time in their respective sports. Yet, both of them aren't done and aspire even more out their selves. 
"Seeing those guys, the size that they are, no, I don't know if I could do it", said Sir Lewis Hamilton. Rightly getting scared at the thought of taking the field with NFL's gigantic players. Both Tom Brady and Lewis Hamilton aspire to win their eighth title this year.
ADVERTISEMENT
Article continues below this ad
In an interview taken well before either season started, both legends answered questions we all have in our minds. Host James Corden asked Tom Brady, if he was going for an eighth ring, the quarterback confidently said, "Yes". Meanwhile, Lewis said, "I got to follow Tom, Yes" 
"I did a little cameo is Cars 2!" 🎬

Lewis Hamilton discussed his on-screen appearances during a sit down chat with Tom Brady 🏈 pic.twitter.com/T5gQ8x6E0s

— Sky Sports F1 (@SkySportsF1) May 10, 2022
On being asked if they'd be any good in each other's sports; Tom Brady picked out a purple helmet gifted to him by Lewis Hamilton. Brady said, "Suddenly in the mail, I got the most beautiful gift." The conversation gets funnier when Tom tries to put the helmet on and says, "It doesn't fit; how can I be a driver?" Even given his size, he is too big to become a F1 driver. 
Brady believes the Mercedes driver would make for a talented footballer as well, given his athleticism. The 7x Super Bowl Champ said, "He is pretty talented in a lot of areas. I think he could do some things on the football field." And fair to Brady, as well as Hamilton, the football fields can use a multitude of talents, and sky diving, surfing Lewis Hamilton could surely hold his own. 
Tom Brady Remembers How Confidence Got Him Through Tough Times 
ADVERTISEMENT
Article continues below this ad
"You have to believe in yourself," says Brady as he explains to James how important it is to have self-belief. Tom Brady highlights the importance of falling in love with what you do instead of thinking of it as a job. "It is the love and willingness to learn and improve that make it enjoyable," he says. He also adds how he always got satisfaction knowing he gave his best, prepared as hard as possible, and gave everything to his teammates.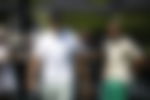 The Tampa Bay Buccaneer  beautifully explains; "Even if you don't get the outcome you want, there is satisfaction in giving what you love, your best" 
ADVERTISEMENT
Article continues below this ad
Watch This Story: F1 Drivers That Don't Live in the Tax Heaven Monaco
Despite winning, two champion personalities talk about how they want to win even more and how they plan to fulfill their goals. Both these GOATS are chasing their 8th title, which is a spectacle in itself. Do you think Hamilton and/or Brady can get there?