Singapore Grand Prix 2008: The Infamous Crashgate Incident Which Shook Formula One Massively
Published 09/16/2019, 2:57 PM EDT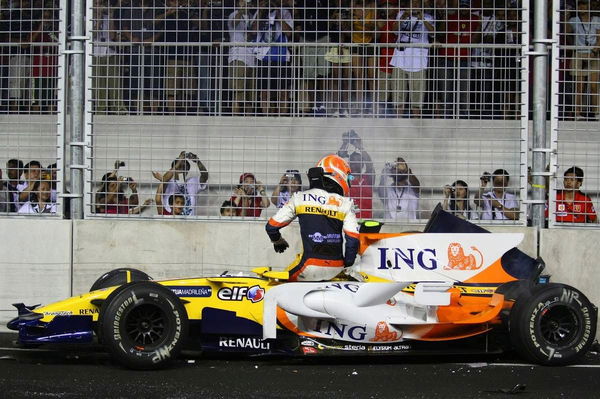 ---
---
The Singapore Grand Prix was first introduced to the F1 calendar in 2008 as Formula One's very first night race. Unfortunately, it would also gain a lot of notoriety, as it became one of the most controversial races.
ADVERTISEMENT
Article continues below this ad
The eventual winner was Fernando Alonso, but the sequence of events that led to him winning, were questionable to say the least.  It was worth noting that Renault driver Nelson Piquet Jr spun during the warm-up lap. Luckily, he immediately recovered and was able to line up on the grid. Some would almost say that that spin was just a small sign of things to come.
When the Singapore Grand Prix actually commenced, the battle was between Felipe Massa, Lewis Hamilton and Kimi Raikkonen. However, not everyone escaped unscathed as Robert Kubica and Heikki Kovalainen collided, causing the latter to drop down the order.
ADVERTISEMENT
Article continues below this ad
To avoid the chaos, Nick Heidfeld and Fernando Alonso cut the first corner, the circumstances helped them avoid a penalty. Alonso had lined up 15th on the grid, which would become important much later in the race.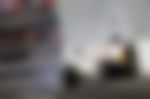 On lap twelve of the Singapore Grand Prix, Alonso blinked first and was the first driver who came into the pits for fresh tyres. He swapped out his super-soft tyres for the soft compound tyres and rejoined at the back of the field.
ADVERTISEMENT
Article continues below this ad
Then, two laps later, it happened, teammate Nelson Piquet, Jr. spun again, this time at Turn 17 and the wall was very unforgiving. The Brazilian cited that his hard tyres were to blame for the accident.
Given that his car was in a vulnerable position, the first safety car period of the race took place. Of course, the safety car arrival means only one thing, dive into the pit lane for fresh tyres, and everything unfolded like clockwork.
By the time the pitstops shook themselves out, Alonso had already climbed up to the edge of the top 5. Alonso lucked out when race leader Nico Rosberg and 4th placed Robert Kubica were penalised for pitting when the pitlane was closed. Alonso was now up to third, and inherited the lead when race leader Giancarlo Fisichella, and second-placed, Jarno Trulli, pitted.
ADVERTISEMENT
Article continues below this ad
The Spanish driver clinched the win, with Rosberg 2nd and Hamilton 3rd. However, the investigation into the incident had dire consequences as Flavio Briatore was banned for life. Meanwhile Piquet Jr's Formula One career was in ruins, and he was dropped by Renault, midway in 2009, never to be seen in F1 again.