Sir Alex Ferguson's 'Bargain XI'
Published 06/30/2015, 8:27 PM EDT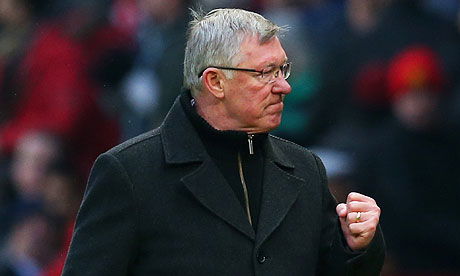 When it comes to football, as it is with most things, change is incessant. Ideologies regarding game-play have evolved over time along with the economics involved. As the love of the sport transcends geopolitical boundaries, football has become an industry in itself.
ADVERTISEMENT
Article continues below this ad
To put the matter into perspective, in 1992, Jean Pierre-Papin became the world's first £10 million footballer while in 2014, Gareth Bale signed for Real Madrid for an estimated £104 million.
In this era of football, bargain purchases are rare.
ADVERTISEMENT
Article continues below this ad
In his 26 year stint at Manchester United, Sir Alex Ferguson made a number of bargain signings who proved that the Scotsman possessed guile in the transfer market like none other.
Going down memory lane, EssentiallySports brings to you the 11 best bargain purchases under Sir Alex's reign, as per position.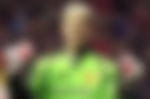 Described as 'the bargain of the century' by Sir Alex himself, the Great Dane edges out Edwin van der Sar as the keeper in this Bargain XI. Signed for a mere £505,000 from Norwegian club Brondby, the shot-stopper starred for Manchester United with 398 appearances in a trophy laden period between 1991 and 1999.
The pinnacle of his career was captaining the side to European glory as Manchester United beat Bayern Munich to lift the Champions League. His celebratory cartwheel on the occasion shall remain etched in United memory.
In an poll conducted by Reuters, Schmeichel was voted to be the Best Goalkeeper in history, beating the likes of Dino Zoff, Lev Yashin, and Gordon Banks. The IFFHS has ranked Schmeichel among the top ten keepers of the 20th century. The 6'3 foot, 105 kg dominating goalie was a Manchester United stalwart.
[tps_title]Left Back: Denis Irwin[/tps_title]
Regarded by Sir Alex as possibly his greatest ever signing, Mr. Consistent signed for Manchester United for a fee of £625,000 from Oldham.
Revered by the Gaffer, he was the only player who played for Sir Alex who would 'walk into my best XI, no questions asked' according to the man himself. Only seven players have represented Manchester United more than his tally of 529.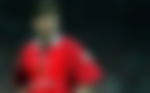 Hard working and humble, the unassuming Irishman was also a goal threat who hardly ever missed a penalty. If the evolution of the full-back is traced, Denis Irwin shall be credited with re-defining the role as he was among the first full-backs ever to begin venturing forward.
Irwin won 7 Premier league titles with Manchester United, along with a League Cup, three FA Cups, a Champions League and a Cup Winner's Cup.
An indication of his contribution for Manchester United, the right-footed left-back once misplaced a pass against Liverpool that led to a goal.
Speaking at the post-match conference, Sir Alex was asked to comment on the error. "One mistake in the past 10 years isn't all that bad", replied the Gaffer.
[tps_title]Centre Back: Nemanja Vidic[/tps_title]
Nemanja Vidic is a chip of the old block. Doubtless, he would have succeeded in any era. His characteristic traits of a typical no-nonsense defender are akin to those of the legendary Bill Fowkes. Signed from Spartak Moscow for around £7 million in January 2006, unlike most others in the list, the Serb had a growing reputation before his arrival.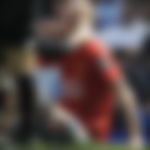 Along with his partner-in-crime Rio Ferdinand, Vidic established himself as one part of one of the most formidable defensive partnerships United have fielded. In addition to being excellent in the air, the Serb was strong and fearless, with defensive awareness that often went unnoticed. He helped United to a record breaking 14-game clean-sheet streak in 2008.
Vidic remains one of the few footballers to have won the Premier League Player of the Season award twice. Handed the captain's armband in 2010, the Serb went onto lead United for three seasons until his relocation to Italy.
His career with United has been trophy–laden, with 5 Premier League titles, the UEFA Champions League, the FIFA Club World Cup, and three League Cups.
[tps_title]Centre Back: Steve Bruce[/tps_title]
The present Hull City manager is arguably one of the most loved players to grace the Old Trafford turf.
Signed for a mere £825,000, the tough tackler actually scored 19 goals in the 1990-91 season. He also became the first English player of the 20th century to captain a side to a Double.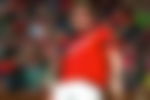 Despite his domestic success, Bruce is often recognized as one of the best footballers to never represent their country. He formed an amazing partnership with Gary Pallister which formed the core for Ferguson's success in England for many a year.
Steve Bruce was never the most gifted footballer and has been characterized as 'an honest trier who made the absolute most of his natural ability'. What he lacked in elegance, Steve Bruce made up with pure determination and heart.
[tps_title]Right Back: Rafael da Silva[/tps_title]
Some may question the inclusion of Brazilian full-back Rafael into this list. Although enjoying an almost dream-like beginning to life in the English top flight, injuries have hampered his progress and his future with United under Louis van Gaal seems bleak.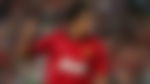 However, under Sir Alex Ferguson, the right back made the position his own and was good enough to be considered the true heir to Gary Neville. He is also just 24 years of age and has plenty of time to turn things around and fulfil the potential Sir Alex saw in him.
Signed from Fluminense along with his twin Fabio, for an undisclosed but negligible fee in 2007, Rafael has made over 100 appearances for the club. Described by former Manchester United scout Les Kershaw as 'a whipping muppet' referring to his ability to get knocked down and then rise again.
His exuberance and tenacity on the field made him a firm favourite with Manchester United fans who are praying for his return to form. Having won three Premier League titles with United, the boisterous 24-year-old will be keen to add to this tally and re-affirm his status as Manchester United's first choice right-back.
[tps_title]Left Wing: Lee Sharpe[/tps_title]
After a personal scouting trip to Devonshire, Sir Alex reportedly finalized a deal with Torquay boss Cyril Knowles for the teenage Lee Sharpe.
£185,000 was the transfer fee as the high-flying winger officially became a Manchester United player. With a career spanning eight years, Sharpe is perhaps best known for his hat-trick in a 6-2 rout of rivals Arsenal.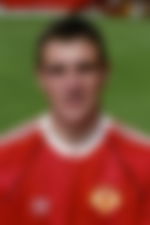 Lee Sharpe was the typical fast-paced, skillful winger who signed for United at the age of 17 and was voted the PFA Young Player of the Year at the age of 19.
However, an extravagant lifestyle and discord with Sir Alex Ferguson proved to be the reason for his pre-mature exit from the club in his mid-twenties.
After the conclusion of his football career, Sharpe has often spoke about his tendency to lose focus and inability to fulfill his potential.
However, in his eight years at the club, Sharpe made 191 Premier League appearances for United and won three Premier League titles. Despite not fulfilling his potential, Lee Sharpe will always be considered as one of Sir Alex's best bargain purchases.
[tps_title]Centre Midfield: Roy Keane[/tps_title]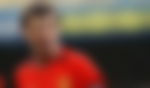 Captain Magnificent. Leader Extraordinaire. Roy Keane will go down as one of the finest leaders the footballing world has seen, in spite of his post retirement conflicts with the club. An extension of Sir Alex on the football field, this hard-hitting midfielder was known for his never-say-die attitude and lead by example. He worked his socks off for the club and expected all around him to follow his example. Not one to mix words, the straightforward Irishman spoke his mind irrespective of the situation.
Signed from Nottingham Forest for a fee of £3.75 million in 1993, Roy Keane was the driving force behind much of Manchester United's domestic and continental success.
His 13 years at the club saw unprecedented success and Manchester United's first UEFA Champion's League triumph since the days of the Busby Babes.
Roy Keane was characterized by a hunger that could never be satiated. Being second best was never an option for his team and his indomitable spirit served as inspiration for his team-mates.
His performance against Juventus in the Champion's League '99 semi-final typified his will to win and has been rated by Sir Alex by the best performance ever by a Manchester United player. In Sir Alex's own words, a team of footballers comprising of 11 Roy Keanes could not possibly ever lose.
This famous banner sums it up: "Roy Keane: Adored in Manchester."
[tps_title]Centre Midfield: Paul Ince[/tps_title]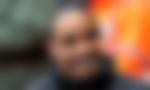 This English midfielder was signed for a sum of £1.8 million in 1989 from West Ham United.
Ince rose through the ranks and slowly established himself as United's first choice central midfielder after the departure of Bryan Robson. Known for his energetic performances and snapping tackles, Paul Ince later became the first black player to captain the England side.
While at United, Ince collected two Premier League medals as well as two FA Cups, and one one Football League Cup. He shared a testing relationship with Sir Alex, who sold Ince to Inter Milan for a sum of £7.5 million in 1995, which made him one of the most expensive English player at the time.
[tps_title]Right Wing: Bebe.
Gotcha!
Right Wing: Cristiano Ronaldo[/tps_title]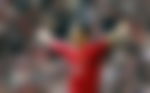 A transfer fee of £12.24 million can hardly be considered a bargain. However, considering Cristiano Ronaldo's achievements at the club, the aforementioned amount certainly qualifies as one of Sir Alex Ferguson's best pieces of business.
Signed from Sporting Lisbon in August 2003, the winger dazzled the Premier League with his trickery in his early years and developed his game to become one of the finest attackers to play ever play for Manchester United.
Readers shall undoubtedly be aware of Ronaldo's bag of tricks and his goal scoring exploits. However, it is his work ethic and sheer desire to be the best that has made him the goal machine he is.
Signed as a flashy teenager accused of lacking substance, over the years Ronaldo adapted his game-play as per the tough demands of the Premier League. He worked on his physical conditioning among other aspects of his game and has developed into the most complete footballer ever.
Three Premier League titles, two League Cups, and a Champions League winner's medal amongst several individual accolades (inclusive of the Ballon d'Or) fail to quantify the effect this Portuguese winger had on the club.
He shall simply be remembered alongside George Best as one of the best wingers to ever run with the ball.
[tps_title]Centre Forward: Eric Cantona[/tps_title]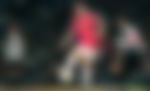 The story of how Eric Cantona signed for Manchester United is the stuff of legend. With the winter transfer window of the '92 season approaching, Sir Alex had failed in his attempt to sign David Hirst.
Jokingly, he asked his assistant to contact Leeds United, who were the reigning champions then, to inquire about the possibility of signing Cantona. Much to his surprise and delight, Leeds responded favourably and a transfer fee of £1.2 million was quickly decided. The rest, as they say, is history.
His arrival was the catalyst for unprecedented domestic success for Manchester United. The club won the Premier League each season King Cantona was available for, the notable exception being when he was suspended for eight months for his (in)famous Kung-Fu kick directed towards a Crystal Palace fan.
In his five seasons at Old Trafford, the Frenchman scored 82 goals, but his contribution was far greater. Having won the double at Leeds, he also inspired Fergie's team to win the Treble themselves.
Cantona's reign at Old Trafford is characterized by majestic grace and poise with the ball at his feet and unimaginable aggression with the ball off them. He shall forever be loved by the Old Trafford faithful as the one true King.
[tps_title]Striker: Ole Gunnar Solskjaer[/tps_title]
ADVERTISEMENT
Article continues below this ad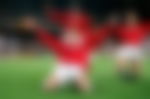 The baby-face assassin was the quintessential poacher. Signed from Molde in 1996 for a fee of £1.5 million, the Norwegian striker achieved cult status at Manchester United. His predatory instincts and expert marksmanship were a major part of his skill-set as he scored 126 goals for the club before injury forced him into early retirement.
Solskaer gained a reputation of being a super-sub during his Manchester United career, once coming off the bench to score four goals in 12 minutes.
ADVERTISEMENT
Article continues below this ad
He formed a telepathic relationship with Dutchman Ruud van Nistelroy and also occasionally played as a right winger in place of David Beckham.
Ole shall most fondly be remembered for his injury time winner against Bayern Munich in the Champions League final of '99. The iconic image of Solskaer skidding across the turf in celebration that night will remain one to savour.