How Much of Tony Hawk's Blood Will Be in Each 'Hawk Blood Deck' Skateboard?
Published 08/25/2021, 1:28 PM EDT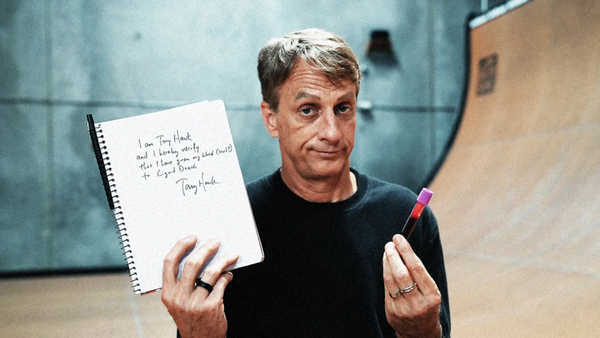 ---
---
Tony Hawk is a man who revolutions the presence of skateboarding not only in the USA but worldwide. Making what is a hobby for many his own passion and career, Hawk built his name and fame on Skateboarding and at the age of 53, continues to be an influential icon in its workings. 
ADVERTISEMENT
Article continues below this ad
Just when we thought we saw the last of Hawk this year at the Olympics, the American made headlines once more with an interesting new Skateboard model. In a collaboration with water company Liquid Death, Hawk actually agreed to have a part of him in the board works.
The icon donated a vial of his blood to be mixed with the paint which was used to make these special edition skateboards! Liquid heat confirmed the same by showing the process of injecting the blood from Hawk's arm and using it with the paint of the board. 
ADVERTISEMENT
Article continues below this ad
The fact that so many of these skateboards will be open for purchase leaves many baffled as to how much of Tony Hawk they will actually be getting. Surely a mere vial can't find its way on everyone's skateboard? 
Although every board won't satisfy vampiric desires of having a vile full of Hawk's blood used in the paint, a rep from Liquid Death has assured fans that every board, selling at $500 apiece, will have a part of Hawk's DNA in them. There are only 100 of these boards on sale, making them an extremely rare and valuable set.
Tony Hawk likes the idea of the 'Blood Board'
ADVERTISEMENT
Article continues below this ad
The boards feature Liquid Death's "It's the Thirst Executioner" character with a hawk skull and ax. There will be a certificate of authenticity that comes with these boards, as confirmed by the company, as the blood boards have taken social media by storm.
"I am deeply thankful to have a connection with my fans, and I appreciate how Liquid Death connects with theirs," Hawk said, completely on board with the idea. "This collaboration is taking those connections to a new level, as I have literally put my blood (and soul?) into these decks."
ADVERTISEMENT
Article continues below this ad
Tony Hawk is symbolically passing himself on to the next generation through these boards which have instantly become a popular addition to the pop culture world. The 'Blood Boards' have certainly drawn intrigue and will sharply increase in value as time passes.