SLAM BREAKTHROUGH! Barbora Krejcikova Edges Past Anastasia Pavlyuchenkova to Claim French Open 2021 Title
Published 06/12/2021, 11:10 AM EDT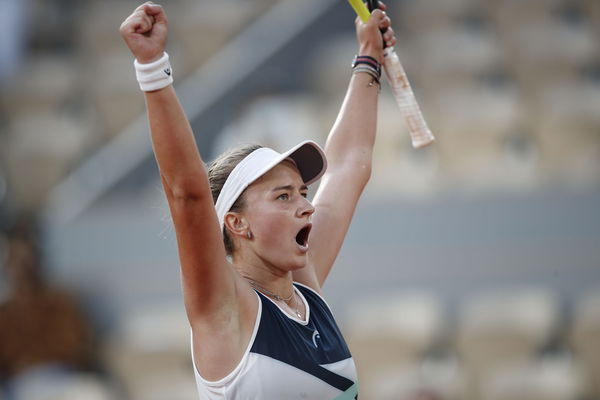 ---
---
Barbora Krejcikova beat No.31 seed, Anastasia Pavlyuchenkova to win her first singles Grand Slam at French Open 2021. That was Krejcikova's sixth Grand Slam overall as she has two and three Grand Slams in doubles and mixed doubles respectively.
ADVERTISEMENT
Article continues below this ad
Barbora Krejcikova takes the initial lead against Anastasia Pavlyuchenkova at French Open 2021
Krejcikova had a bit of trouble serving at first; she hit a few double faults as Pavlyuchenkova broke her in the first game itself. However, Krejcikova showed her prowess in rallies and returns. She immediately got the break back as the first set was at 1-1. And from here the Czech player dominated the proceedings.
ADVERTISEMENT
Article continues below this ad
Krejcikova quickly finished her service games and broke Pavlyuchenkova to lead 3-1 in the set. Pavlyuchenkova wasn't getting any chances to open her arms. Krejcikova dispatched any loose service, and quickly broke Pavlyuchenkova for the third time in the set to serve for the opening set, 5-1. Krejcikova didn't hesitate and completed a ruthless first set, 6-1.
Anastasia Pavlyuchenkova battles with injury to win the second set
In the second set, Pavlyuchenkova was matching Krejcikova. Her backhand had started to fire, as Krejcikova couldn't hold on to any rallies. Krejcikova failed to convert a break point in the first game of the second set and the Russian took over from there. Pavlyuchenkova took a break and held her serve again to increase her lead to 3-0.
Krejcikova struggled for rhythm as her backhand was not working. She was still returning ferociously, but couldn't influence the second set much as Pavlyuchenkova broke her again to serve for the second set, 5-1. The Russian was struggling with some discomfort in her left leg and had troubles serving the set out. Krejcikova saved a set point and broke Pavlyuchenkova, 5-2.
But Pavlyuchenkova took a medical timeout as she had a problem with her left leg. Her movement was hampered, but, she had her winners and hence broke Krejcikova again to win the second set, 6-2.
Barbora Krejcikova wins French Open 2021
ADVERTISEMENT
Article continues below this ad
Pavlyuchenkova was trying for short points given her injury. And she was successful in that, as Krejcikova's kept losing her backhand. The Czech player wasn't capitalizing on Pavlyuchenkova's injury as the set was at 1-1. Krejcikova broke Pavlyuchenkova initially, but the Russian came storming back with her fierce backhand to get the break back and level the set, 2-2.
Pavlyuchenkova's resistance was fading as she was broken again and was in trouble at 5-3. The Russian saved two championship points as Krejcikova then served for the title at, 5-4. Krejcikova didn't hesitate and completed the match to claim her first singles Grand Slam.
ADVERTISEMENT
Article continues below this ad