Sleepless nights await Lahiri after crucial missed putt
Published 10/11/2015, 8:03 AM EDT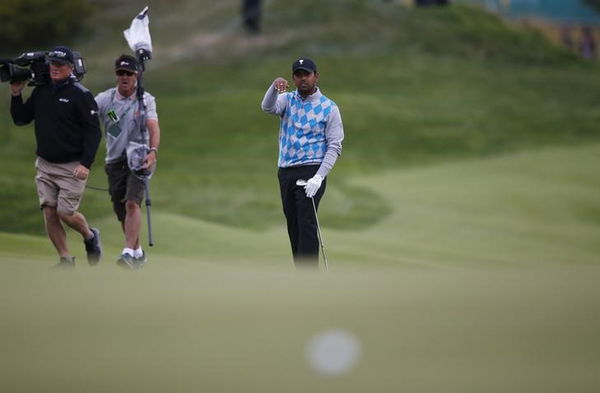 INCHEON, South Korea (Reuters) – Anirban Lahiri had hoped for a chance at redemption on the final day of his debut President's Cup but when it eventually came, on the final hole of a pivotal singles tie against Chris Kirk, the rookie crumbled.
ADVERTISEMENT
Article continues below this ad
Kirk had holed a downhill 15-foot putt on the last that left the 28-year-old Lahiri, who had lost both previous matches in Incheon, with three-and-a-half feet to tie the American and move the Internationals onto 13.5 points in the race to 15.5.
With Australian Marc Leishman and South African Brandon Grace ahead in the final stages of their matches, the Internationals were agonisingly close to only their second win over the United States and first since 1998.
ADVERTISEMENT
Article continues below this ad
The Indian, a supreme putter who has won twice on the Asian Tour this year and is their Order of Merit leader, confidently struck a firm effort towards the hole but the ball hit the right edge of the cup and lipped out.
"I was pretty sure what the line was and I made a good stroke. But I think I did what I've done all week: misread putts," Lahiri told reporters.
"It looked like right in to me. That's why I hit it. Went left to right and caught a big part of the lip. Spat it out."
The point for the Americans was pivotal. Leishman and Grace won their matches but Bill Haas beat South Korean Bae Sang-moon on the final hole of the last match to seal a 15.5-14.5 win.
"I knew that the half point was equally important," said Lahiri who had pulled level with Kirk after a birdie at 14.
"The full point would've been I guess game changing, but the half point would've also given us a little more of a chance.
"These things are scripted I guess, and I wasn't in the script this time."
Lahiri was the first Indian to ever qualify for the President's Cup and had been thoroughly looking forward to representing the International Team.
But his heartbreaking final hole miss, which led to his putter flying out of his hands and over his shoulder, left him as the only player across the two 12-man teams not to contribute to the tallies.
"I would like to rewind and just change the last 10 seconds of it," Lahiri said of his debut experience. "I think it wasn't meant to be.
"I do feel terrible right now obviously. It's going to be hard for me to sleep tonight, I think. I'm sure the rest of the team is going to help me out."
ADVERTISEMENT
Article continues below this ad
Internationals skipper Nick Price promised his side were going to rally round the deflated Lahiri.
"I feel so bad for Anirban, as we all do," the Zimbabwean said.
"But you can't look back at one shot on the 18th hole. That's often what happens. You look back, there were mistakes made early on in today's round and yesterday's round and Thursday and Friday.
ADVERTISEMENT
Article continues below this ad
"We are going to cheer Anirban up. We are going to make sure he goes away from here with a wonderful experience and not let him dwell on what happened today."
(Writing by Patrick Johnston in Singapore; editing by Amlan Chakraboirty)