Are Slovakia the new dark horses of Euro 2016?
Published 06/01/2016, 8:24 PM EDT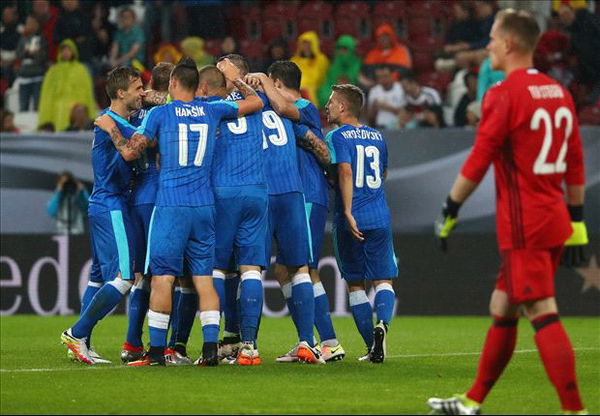 ---
---
The World Cup champs have it all. They have a strong defence, a power-packed attack and a supportive midfield to withstand almost anything the opponent might throw at them, so when on Sunday they hosted Slovakia for a routine friendly match, the unexpected happened. Slovakia beat Germany 1-3 showcasing tremendous effort, teamwork and sheer brilliance and clearly outshone the Germans. Now, some Nationalelf loyalists may attribute Slovakia's win to the heavy downpour that took place and the conditions under which the game was played but even so, Slovakia ran rampant as they might just prove to be the dark horses in this European race to glory.
ADVERTISEMENT
Article continues below this ad
https://www.youtube.com/watch?v=hpBcSrix7BQ
The fine line between confidence and complacency must not be crossed but lately, Germany has been facing the issue of going in too strong and coming out as failures of all sorts. Slovakia triumphed not only because of the German's lacklustre performance but they shone throughout the game showing the winner's spirit and not letting their guard down. The game started off the way anyone would expect it to, with Germany being one up and had set the tempo of the game just right according to their line up which mainly consisted of the youngsters like Leroy Sane. Mario Gomez's penalty in the 13 minute put the Slovaks under some pressure of their own but it wasn't long till Slovakia turned the game around. Napoli's midfield magician Marek Hamsik scored a sublime goal putting the two teams at par and then just minutes later, Jan Kozak's team were 1-2 and finally found themselves winning the game 1-3.
ADVERTISEMENT
Article continues below this ad
Speaking freely, the burning question that comes to mind when talking of Slovakia's national team is WHO WILL BE PLACED TO ATTACK IN THE GAME? It's not as if they have a lot of options but the ones that they do have, have shown tremendous promise in terms of performances and the improvements that come with it. Adam Nemec, who currently plays for Willem II has scored thrice already in the 2016 campaign towards the preparation of the Euros and positive performances can be expected out of the 30 year old. Slovakia's midfield seems to be the strongest with players like Marek Hamsik and Ondrej Duda, who was easily one of the best players on the pitch against Germany. In fact, it was one of Duda's passes that lead to the first Slovakian goal. Nicknamed 'Dudinho', he is often known to have a certain amount of fluidity in his movement which helps him into creating maximum chances of scoring.
Slovakia's key player Marek Hamsik has played a vital role in shaping the team's overall demeanour. Statistically speaking, Hamsik has shown outstanding performance with Napoli with an overall rating of 7.3 out of 10 with a pass success percentage of 86.6; he's scored 6 times and assisted 11 times, proving to be an indispensable player for the club both domestically and in the Europa League. Nationally, he represented Slovakia in the 2010 World Cup helping them qualify for the first time in their history and with him in the squad as their captain, they managed to beat Italy in the group stages where the 28 year old played an important role. Having represented his country a total of 86 times, he has scored 18 goals for them and when it comes to the Euros this year, he will prove to be one of the MVPs for Slovakia, so much so that Pavel Nedved said "Hamsik is my heir. He is the football player who most resembles in terms of his characteristics and playing style."
ADVERTISEMENT
Article continues below this ad
Historically, Slovakia has not proved herself to be one of the threatening teams internationally but this is the first time that they have qualified for a European competition and they will be looking to prove their critics wrong. The team has a certain drive and motivation that point towards their successful run in the tournament. When a team has something to prove or to lose, in the process, they become lethal.
ADVERTISEMENT
Article continues below this ad