"I'm BEGGING For Trinity Rodman.." – Dennis Rodman's Daughter Gets Fans Excited Ahead of USWNT's Crucial Friendlies Ahead of FIFA World Cup
Published 01/16/2023, 6:15 AM EST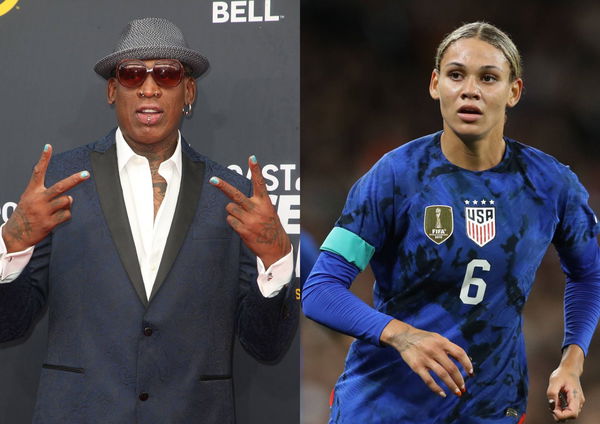 USWNT is looking to create history. They have already won two back-to-back World Cups in 2015 and 2019. Winning the upcoming FIFA Women's World Cup will get USWNT the golden spot of completing the hat trick of the trophies. If they are to achieve this incredible feat, many big names of USWNT will have to work together, which they are more than capable of doing as they have shown time and again. The newest piece of this incredible puzzle of a team is the daughter of the NBA veteran Dennis Rodman.
Trinity has made her NWSL debut in 2021 for Washington Spirit. In 2022, she took the soccer world by storm when she became the highest-paid player in the entire league. In a league where big names like Alex Morgan and Megan Rapinoe are playing, being the highest paid, says a lot about the skills of a player.
Fans want Trinity Rodman to start
ADVERTISEMENT
Article continues below this ad
After a long break, USMNT is ready to come back in action in two friendly internationals with New Zealand. Washington Spurs shared the clip of its starlet Trinity Rodman making a joke of defenders before hitting a sensational goal during the practice. The clip got fans all excited, as they will be on the pitch playing in New Zealand. Here is how fans reacted to the clip,
trinity rodman should get the start on tuesday and friday….actually i'm BEGGING for trinity rodman to get the start on tuesday and friday

— Maddie (@swiftspugh22) January 16, 2023
She's so underrated.

Feel like it's so rare to see someone with this talent, tactical field sense, hustle and scoring ability also play the kind of selfless ball she does.

— bps (@brittanyschmelz) January 15, 2023
Trinity Rodman is undoubtedly one of the biggest additions to the USWNT after the previous edition of the tournament. How this starlet will live up to the name of her father Dennis Rodman, only time will tell. But she had made the initial impact on the fans, as reactions would suggest.
ADVERTISEMENT
Article continues below this ad
These matches matter a lot as USWNT will only get 5 matches to come back in action before the biggest tournament of the year. Amid the matches, training is on a full go in the USWNT camp.
Living up to the name of Dennis Rodman
While the starlet has just started her soccer career, fans have already started comparing her with the NBA veteran and her father Dennis Rodman. She had discussed this in a talk with CBS. She said, "It sometimes could look it's hard to outshine him or be as big as he was it was just like a kind of building my own story rather than trying to overcome his…"
ADVERTISEMENT
Article continues below this ad
Watch this story: Cause Man U Terminated His Contract Fans Destroy Cristiano Ronaldo on Social Media After Comments From Terminator Star Arnold Schwarzenegger Resurface
 It will take a very decorated career for the young star to even come closer to what her father achieved in his career. However, the future does look bright for the star.
Edited By: Gideon Mathson