Amid Latest Ageing Signs, Cristiano Ronaldo Faces Another Blow As Ex-Real Madrid Doctor Snubs Him for This Superstar As Best Athlete
Published 03/20/2023, 9:00 AM EDT

Follow Us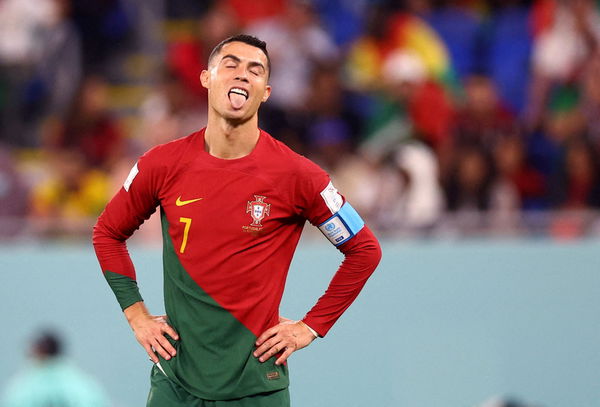 It is safe to say that Cristiano Ronaldo is one of, if not the best soccer player of all time. The Portugal international and former Real Madrid star has mesmerizing footwork, unbelievable power, accuracy in his shots, and the ability to make defenders look foolish.
ADVERTISEMENT
Article continues below this ad
His physical prowess is unrivaled in the sport, and his overall skill set makes him one of the most well-rounded athletes in the world. In recent years, these abilities have definitely taken a hit due to his aging. The Portuguese star is 38 now but is still going strong.
ADVERTISEMENT
Article continues below this ad
However, a statement from an ex-Real Madrid doctor has pulled Ronaldo's status as the best athlete into question.
Cristiano Ronaldo snubbed as the best athlete
Jesus Olmo, an ex-Real Madrid doctor stated that Gareth Bale is the best athlete that he has ever seen. " Perhaps the best athlete I've ever seen is Bale," Olmo said. "Gareth Bale is a natural athlete who can excel in practically any sport".
Cristiano Ronaldo was NOT the best athlete at Real Madrid, according to former club doctor Jesus Olmo.

He claims Gareth Bale was the most impressive and was 'capable of excelling at practically any sport'.

— GOAL (@goal) June 9, 2020
He added, "He has incredible athletic skills, and I would also say technical skills. He is the one who impressed me most in all aspects". It is surprising that Olmo would snub Cristiano Ronaldo to choose Gareth Bale. However, having worked with both players closely there's certainly a big reason for his bold statement.
Additionally, it is worth noting that Bale is an exceptional athlete in his own right. One thing worth noting is that Bale retired from the sport at the age of 33, while Ronaldo is still going strong at the age of 38. However, recently the 5x Ballon d'Or winner has shown some signs of aging.
Ronaldo recently pictured with gray hair
Cristiano Ronaldo is known for his good looks, his ability to score goals, and his impressive physique. But now it looks like old age is finally starting to catch up to Ronaldo. Recently, pictures of Ronaldo with gray hair have surfaced on the internet. The picture has left many of Ronaldo's fans feeling sad.
ADVERTISEMENT
Article continues below this ad
Age is inevitable, and no one can stop it, but Ronaldo is still performing on the pitch. Recently, the Al Nassr striker scored a beautiful free-kick goal from long range to help his team win 2-1. Ronaldo is still managing to score goals and win matches. He may not be the player he once was, but he is still one of the best in the business.
ADVERTISEMENT
Article continues below this ad
WATCH THIS STORY- Meet the Legendary Tennis Player Who is 3x Richer than Cristiano Ronaldo
What are your thoughts on this? Who, according to you, is a better athlete between Ronaldo and Bale? Let us know in the comments.