"If Men Had Periods…" – England Soccer Star Leah Williamson Lashes Out at Bias in Rules for Women
Published 12/29/2022, 5:15 AM EST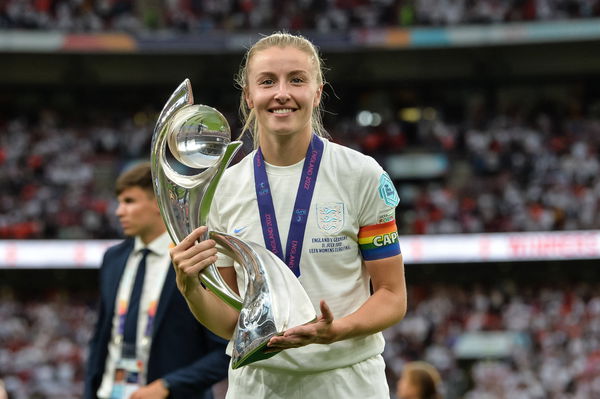 The English soccer team captain Leah Williamson talked about women's health in a recent interview and she had some powerful statements to make. He was talking about how she battled various health problems while playing soccer. In the interview, she also discussed some ups and downs of her career. She would also go on and talk about how she feels about the fact that women's soccer is held back when compared to men's soccer.
ADVERTISEMENT
Article continues below this ad
The difference is very annoying indeed, and she wishes for the issue to be solved one day. However, one of the most important parts of the interview is when she talked about her health issues and how she feels about them.
ADVERTISEMENT
Article continues below this ad
Leah Williamson is among the most decorated soccer players in England. She had won Euro Cups for her country after beating Germany this year. However, in the beginning, she was scared about her health sabotaging her performance in the tournament.
Leah Williamson diagnosed with Endometriosis
In 2021, when she was injured, she got diagnosed with Endometriosis, which she said made sense as she had experienced painful periods. She described how she was scared about Euros when she got a concussion right before the tournament and doctors told her that may affect her periods. However, being the fighter she is she came out on top and lifted the trophy in the end.
While talking about what was going on in her mind during Euros, Williamson said, "I'm a professional athlete. I've always been like, 'let's get on with it', she says of how she's dealt with the difficult periods that characterize the condition… But you get to a certain age when you actually say 'this is a really big f**king problem'. I'm pretty sure if men had periods, we would have figured out a way to stop them by now without doing any damage."
ADVERTISEMENT
Article continues below this ad
Leah Williamson has some firm statements to make indeed. Although, the whole world has a newfound respect for the Lioness of England, given how she played and won Euros.
Young soccer career of Leah
Leah is 25 years old and is leading the English national team and her club, Arsenal. In such a brief career, she won Euros and got the national team's lead. She is undoubtedly one of the best midfielders in Europe, if not the entire world.
ADVERTISEMENT
Article continues below this ad
Watch this story: Serena Williams Husband Alexis Ohanian Brings In FIFA World Cup Numbers to Declare Women's Soccer Popularity in US Shouldn't Surprise Anyone
Leah has played 126 matches for Arsenal and cemented her name in the history of the team. She became the first captain, among both men and women, to lead the English team to the trophy in the last 56 years. She is young and has a long way to prove her greatness and skills. But, we can see the signs of legend in such an early stage of her career.