"Sent Home Prematurely"-the Ugly Truth About Karim Benzema's Exclusion From French Soccer Team Surfaces and Sends Shock Ripples Across the Fanbase
Published 12/28/2022, 11:30 AM EST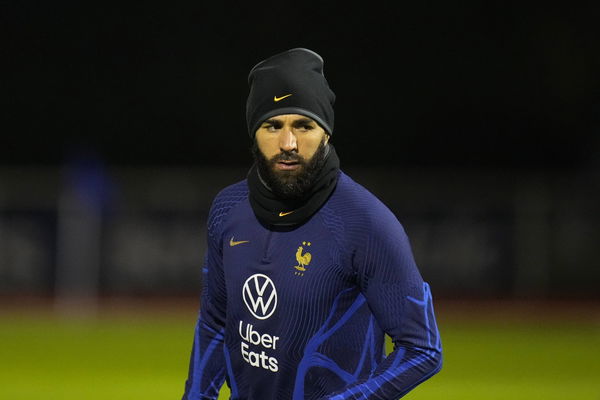 French fans are still processing their loss in the final. Everyone still can't believe how they came ever so closer to the title and the rest of the team wasn't able to help Kylian Mbappe. He was fighting like a lone wolf against Argentina. He scored a hat-trick, and also scored in the penalty shootout. But could only stand there and watch as Emiliano Martinez broke his dream by saving against Coman and exerting so much pressure on the next player that he missed the shot completely. Needless to say, fans could only see how nobody could help Mbappe and wished Karim Benzema was there. However, a recent claim from Karim's agent has sent the fans into a spiral.
Karim got injured right before the kick-off match and could play even a single minute. Even before the knockout stage begins, the star came back home. To fans who missed him in the finals would be a big understatement. However, his client claimed that French management made a mistake in sending him back home early.
ADVERTISEMENT
Article continues below this ad
Karim Benzema was sent home prematurely
The agent of the French star claimed that if the medical staff and French coach Didier Deschamps did not send him home, he would have played. According to the agent, the star would have been fit by the time France played their round of 16 matches. This statement has brought a big thunderstorm in the soccer community.
Fans have mixed reactions to the revelation. While some are criticizing the coach for such a blunder, some said France performed better without him, and as usual, some trolled everybody involved in this. Here are a few reactions:
ADVERTISEMENT
Article continues below this ad
France played one of the closest finals ever and the credit must go to Mbappe. However, without any support and brilliant play from Argentina meant he could just stand and watch the trophy going to Argentina.
Mbappe almost won them the world cup
Mbappe brought France back in the 80th minute by scoring two back-to-back goals, taking the score to 2-2 after the end of regular time. Messi restored Argentina's lead in extra time, but Mbappe again came in clutch and tied the score. At the very last minute, France had a chance but Emiliano Martinez made one of the best saves ever and the score remained 3-3 after extra time.
ADVERTISEMENT
Article continues below this ad
Watch This Story: Lionel Messi Receives One-Word Message From Hendrick Motorsports Legend Jimmie Johnson Post World Cup Heroics
We all know what happened after the penalty shootout, Mbappe was heartbroken and Lionel Messi had just got the trophy his heart desired the most.
Edited By: Akash Pandhare