"There Is a Big Focus On Egos"- Ex-Manchester United Coach José Mourinho Slams European Teams Following Germany's Shameful Defeat Against Japan
Published 11/24/2022, 10:30 AM EST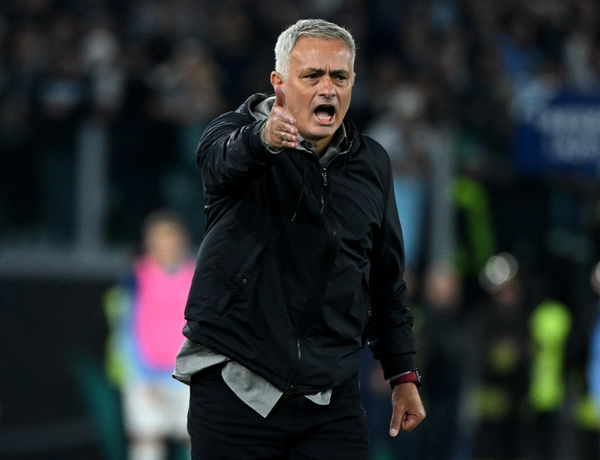 Legendary soccer manager José Mourinho, in his recent statement, put a serious question mark on European soccer teams and their management. Mourinho is in Japan these days for a training retreat and he talked about the shocking defeat Germany suffered at the hands of Japan. He implied that the result of the match did not shock him, as he knew that the Japanese team was the best Asian team playing in the tournament. 
ADVERTISEMENT
Article continues below this ad
This tournament has seen 2 big upsets so far. Saudi Arabia started the trend when they shocked everybody with their triumphant win against the mighty Argentina. Japan followed the same warrior mindset to the field and won the match 2-1 after trailing by 1 goal at the end of the first half.
ADVERTISEMENT
Article continues below this ad
'The Special One' is not surprised
José Mourinho, while talking about the match, said that he had gone to sleep in between the match itself because he was tired.
Mourinho said, "Of course, it is a fantastic achievement, but to be honest, it was not like a crazy surprise. Japan is a good team, it has good players, and it is getting experience at these events. The majority of the players, they play in Europe where they develop faster and they understand better what is the high-level game."
He added, "In European Football there is a big focus on the individual, big focus on egos."
Jose Mourinho has said Japan's victory over Germany wasn't a 'crazy surprise' and that there is a big focus on egos in European football. pic.twitter.com/ExxvMyJD4j

— Sky Sports News (@SkySportsNews) November 24, 2022
This hot take seems to match what fans on Twitter were saying after the match. It was a big match for Japan and they came out victorious. Twitter had fun yesterday as they saw this match unfold and trolled Germany. 
Best World Cup ever?
This ego comment will hit hard on the teams that are reportedly in open rebellion against FIFA. Denmark, England, and Germany are considering their options to pull out of FIFA.
This discussion came on the back of FIFA, declining their request to wear the rainbow-colored armband supporting the LGBTQ+ community. German players protested against the decision by covering their mouths. 
It wasn't about making a political statement – human rights are non-negotiable. That should be taken for granted, but it still isn't the case. That's why this message is so important to us.

Denying us the armband is the same as denying us a voice. We stand by our position. pic.twitter.com/tiQKuE4XV7

— Germany (@DFB_Team_EN) November 23, 2022
ADVERTISEMENT
Article continues below this ad
From action to politics, thrill to stomps, this edition of FIFA has every element that can make it the highest-grossing movie ever. Two giants of football underestimated their opponents and paid the price. However, FIFA banned alcohol and any sight of protests, both last-minute decisions.
ADVERTISEMENT
Article continues below this ad
In the middle of all this, Cristiano Ronaldo and his team, Portugal, are going to kick off their tournament today. Meanwhile, fans have big expectations of him, especially after the Manchester United controversy.
WATCH THIS STORY: Soccer Legend Megan Rapinoe Wants Dwayne Johnson Led XFL to Change Their Logo