"We're Winning the World Cup" – American Fans Rejoice as They Urge Folarin Balogun to Pick USMNT Following Alex Zendejas' Mexico Snub
Published 03/15/2023, 8:30 AM EDT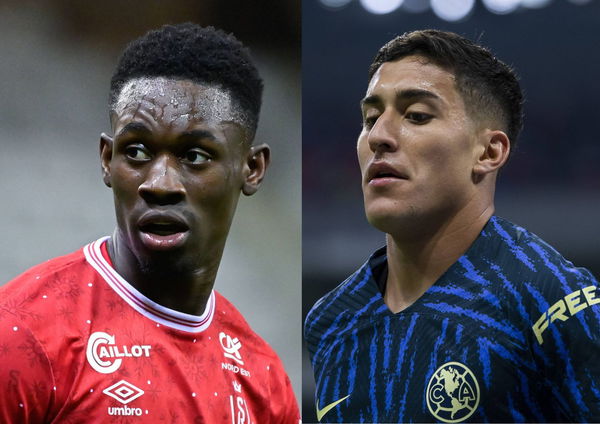 USMNT recently received a massive boost. Alejandro Zendejas has committed to play for USMNT ahead of Mexico. Zendejas, who plays a winger, has dual citizenship of Mexico and the US and recently released a statement committing his international future to USMNT. US soccer fans are happy and want Folarin Balogun to do the same.
ADVERTISEMENT
Article continues below this ad
Zendejas was on the USMNT roster in January for two friendlies and started the game against Serbia. USMNT lost the game, but then the interim manager Anthony Hudson praised the player for his performance. Hudson feels Zendejas will be a full-time player for USMNT in the future and gives a great option to the attack on the wings.
ADVERTISEMENT
Article continues below this ad
Fans want Folarin Balogun to commit to USMNT after Alejandro Zendejas
It does not satisfy USMNT fans, with only Zendejas committing to USMNT. They want more depth to the team. The fans have urged French Ligue1 star forward Folarin Balogun to decide on the same line as Zendejas. Balogun currently represents England and is eligible to play for USMNT as well.
One of the fans wrote, "Next is @balogun 🙏🏻🙏🏻🙏🏻." Other fans also jumped the boat asking US Soccer to do everything possible to get Balogun on the roster. It will be interesting to see how US Soccer reacts to the demands of the fans. USMNT lacks good goal-scoring options upfront, according to the fans. Balogun's goal-scoring exploits this season have caught the eye of many fans who wants the USMNT to announce him soon after convincing the young star.
Great news! Also announce Balogun and will forget about the Berhalter/Claudio fiasco.

— Mannequin Skywalker (@MannESkywalker) March 14, 2023
Meanwhile, American fans also welcomed the Club America player's decision over snubbing Mexico for USMNT. They feel he will add to the depth of the squad. Many feel it's a great start to a new cycle of the 2026 FIFA World Cup that will take place in the US, Canada, and Mexico.
Great start to our new cycle🇺🇸 This is someone I've been high on for a while and wanted him on our side, and we finally got him🇺🇸 #usmnt https://t.co/dQYzP6wd0v

— Red, White, & News🇺🇸⚽️ (@RedWhiteNews1) March 14, 2023
It will be interesting to see how the future pan out for Zendejas with USMNT. He has also represented Mexico on an international level. However, his Mexican representation was caught in the controversy with FIFA ordering the Mexican Federation to pay a fine. 
Zendejas and Mexico controversy
ADVERTISEMENT
Article continues below this ad
Zendejas represented US Soccer at U-17. He was also called to Mexico U-23, where he played three games, and Mexico national team last year, where he played two games. Meanwhile, FIFA ordered a probe into him after he represented the Mexico national team. Zendejas played for Mexico without filing a one-time switch to FIFA for switching the national team.
FIFA ordered Mexico to forfeit the two friendlies where Zendejas played in 2022 and slapped a fine on the federation. They also ordered to forfeit all three games of the U-23 Mexico team where Zendejas played. 
ADVERTISEMENT
Article continues below this ad
WATCH THIS STORY- Meet the Legendary Tennis Player Who is 3x Richer than Cristiano Ronaldo
What do you make of a potential Balogun arrival to the national team? Let us know your thoughts on Alejandro Zendejas choosing US national team over Mexico.