"When You Put a Woman at the Table They Get S**T Done" – US Legend Praises US Soccer President Cindy Parlow Cone Over Equal Pay Success After 2 Decades of Fight
Published 12/29/2022, 11:30 AM EST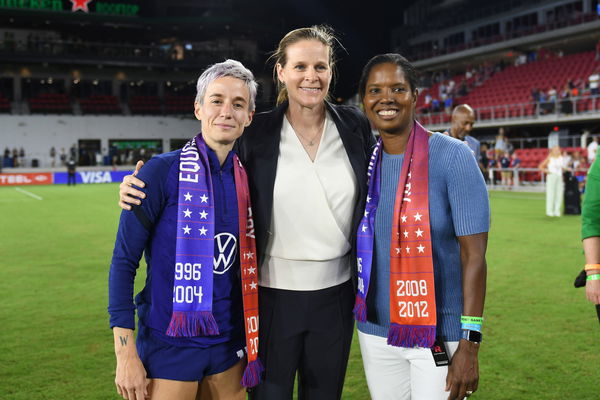 Every soccer fan in America would be familiar with the lawsuit of the USWNT against the US Soccer Federation for equal pay. With leading voices like Alex Morgan and Megan Rapinoe, they won the settlement and have been enjoying equal play since then. However, taking inspiration from the event government has introduced a bill that applies to every sport.
ADVERTISEMENT
Article continues below this ad
Athletes representing the nation on an international stage will get the same play regardless of their gender. Senator Maria Cantwell also praised the Women's national soccer team's efforts and said they were the real inspiration behind the bill. However, one USWNT legend just praised the president of US Soccer.
ADVERTISEMENT
Article continues below this ad
Cindy Parlow Cone is herself a world champion and an Olympic gold medalist. One can't simply ignore the contributions she had made to women's soccer as well as soccer as a whole. Her recent praises came from one of her former teammates.
US Soccer President gets s**t done!
While talking about Cindy Parlow Cone, one of her teammates Julie Foudy perfectly described the effect she has had on soccer in her tenure as US Soccer President. Cindy is the only female president of the organization in its 109-year-old history. She oversaw the negotiations and made sure that USWNT get the deal they wanted. She paved the way for the new equal pay bill along with the national team.
Julie Foudy, while talking to LA Times, said, "When you put a woman at the table they get s**t done. I'm not surprised at all by how well she's doing… There's no bull—. It's very transparent. Her moral compass is fantastic. She's willing to be vulnerable, she's willing to admit what she's doesn't know. Yet she's really good at making decisions when she does know or asking for help when she needs it. All those things make great leaders. She checks all the boxes."
ADVERTISEMENT
Article continues below this ad
Cindy had left an everlasting mark on not only soccer but on all sports. The bill is now passed by both houses and currently is on president's desk for the final stamp. It's quite historic to see such revolutions in sports right before our eyes.
Maria Cantwell thanked Megan Rapinoe and Alex Morgan
While presenting the bill to the senate senator Maria Cantwell shouted out USWNT stars Megan Rapinoe and Alex Morgan. She said their historic battle for equality paved the way for the bill. The entire house cheered as they introduced the bill and it got passed without any opposition.
ADVERTISEMENT
Article continues below this ad
Watch this story: Breaking Post Brittney Griner Special Request From Megan Rapinoe POTUS Confirms National Security Team Put To Work Amid Medal of Freedom Talks
What do you think about the bill? How far will it go to bring equality to sports? Tell us in the comments.