"You Are Rude"- Latin Grammy Nominee Maluma Turns a Cold Shoulder Over Qatar Human Rights Questions Before FIFA World Cup
Published 11/20/2022, 9:00 AM EST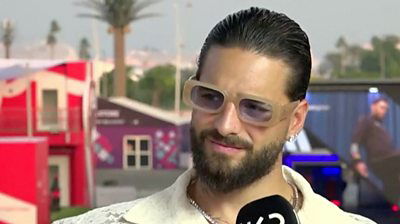 Latin Grammy nominee musician Maluma shocked the world in an interview ahead of FIFA World Cup 2022. He performed at the event, and the news anchor asked a question about human rights violations. Dua Lipa and Shakira pulled their names out from FIFA because of the moral stand of Qatar.
ADVERTISEMENT
Article continues below this ad
It happened when Moav Vardi, Chief International Correspondent, IPBC, asked him about his stand on the human rights violation allegations in Qatar. Many people seemed to believe that he put Maluma in a corner. Many Twitter users think Moav has no moral legs to stand on this matter.
ADVERTISEMENT
Article continues below this ad
"I must ask you, Shakira and Dua Lipa refused to take part in this World Cup due to the bad record of Qatar regarding Human rights, and people think, what? So Maluma doesn't have problem with human right violation in this country?" asked Moav. 
You are there just the same as all the players, fifa, fans etc. I think it speaks volumes about you that you hold 1 artist accountable but not yourself & and the millions that are also attending, or the Qatar government.

— Shank-ira 🗡️🫀🩸 (@shakevan82) November 19, 2022
"Yeah, but that's something I can't resolve. I just came here to enjoy life, enjoy soccer, the party of soccer," replied Maluma. After this, Moav started asking about the potential backlash that he might face. Maluma insisted that he didn't want to talk about it, but Moav kept pressuring him. After this, he walked out from the interview stating Moav was rude.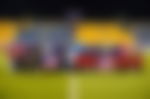 Twitter seems to be one-sided against Moav
Twitter had imploded with responses against Moav Vardi after the news of this incident broke out on Twitter. People are refuting the logic behind Moav questioning the artist on working in Qatar while he is holding a mic and working on his program in the same country. 
The anchor is also working in Qatar, as Maluma will do, why he doesn't ask that same question to himself?

— Pierangelo Montauti (@montauticharria) November 19, 2022
Maluma stated that he was not the one responsible for the misery. People believe that Moav was holding one man accountable rather than the FIFA officials, the government, and himself for having this event or participating in the first place. 
ADVERTISEMENT
Article continues below this ad
You are holding mic in Qatar and you are asking someone what he is doing there. This Europeans

— 𝕿𝖆𝖑𝖑𝖊𝖘𝖙🌻 (@RichieCharger) November 20, 2022
The Colombian artist wrote on Instagram, "I came to put my flag and culture in the most important event in the history of sports and bring joy to the ends of the earth. This is my mission and my legacy."
ADVERTISEMENT
Article continues below this ad
"If some didn't want to come, that's their problem, but I'm here, facing reality and bringing light to the whole world with me." FIFA World Cup is about to take place, and fans look forward to enjoying the event. Fans are angry at Moav for this cornering the artist. Let's hope that this is just a one-time thing and that fans are able to enjoy the event they intended. 
Watch this story: Aaron Rodgers Poses Alongside Soccer Icon Who Played at Lambeau Field -"Favorite Player…Great Dude"