At Age 11, Cristiano Ronaldo Jr. Is Better Than His Father; Says Manchester United Star's Mother
Published 09/22/2021, 3:00 PM EDT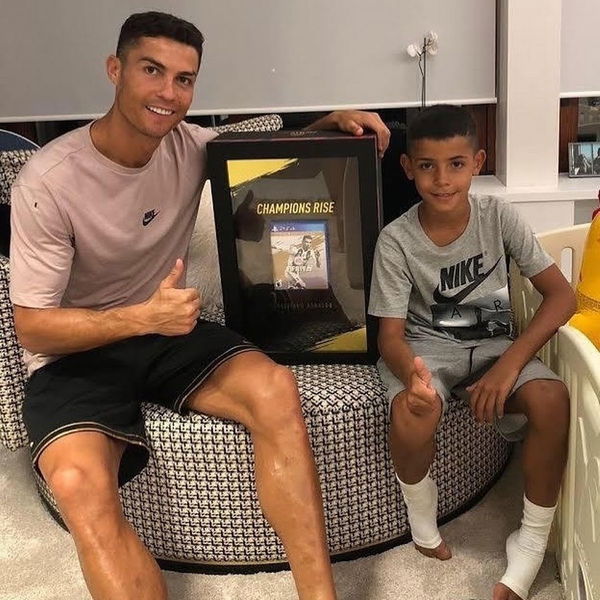 ---
---
Cristiano Ronaldo is one of the greatest footballers of all time and has broken most records that there are to be broken. However, will his son continue in his father's footsteps?
ADVERTISEMENT
Article continues below this ad
If Ronaldo's mom, Dolores Aveiro, is to be believed, Ronaldo Jr. is already better than his father. She revealed that Ronaldo consistently trains and works out with his son. "Cristianinho" has the best teacher anyone could have asked for.
ADVERTISEMENT
Article continues below this ad
Aveiro revealed that she wants Ronaldo to play for Sporting Lisbon again in an interview with the ADN de Leao podcast. However, he's not the only Ronaldo that could play for the Portuguese club.
Dolores Aveiro wants to see her grandson play for Sporting Lisbon
Aveiro has high hopes for her grandson and wants to see him play for Sporting Clube de Lisbon, like his father. Ronaldo started his professional career at Sporting before moving to Manchester United in 2003. She said that while Cristiano did not give her a concrete answer, his son could play for the club too.
"'Let's see…', he said, but if it isn't [him], it's Cristianinho! At his age, he plays better than Ronaldo. At the time, Ronaldo didn't have a coach, but today Ronaldo is his son's teacher," Aveiro revealed.
Cristiano Ronaldo and his form at Manchester United
It's much harder to see Cristiano Ronaldo back at Sporting Lisbon because of how exceptional the Portuguese forward still is. He has scored four goals in two Premier League and one Champions League appearance and has taken this team to another level.
ADVERTISEMENT
Article continues below this ad
If he is still capable of playing at the top level of European football, it seems unlikely that he would take a step back and play in the Portuguese League.
ADVERTISEMENT
Article continues below this ad
The decision is obviously for Ronaldo himself to make; but with the way he has taken care of his body and his movement in the opposition penalty area, it's possible to see him playing into his 40s. Maybe then, a return to Sporting Lisbon will be on the cards for the entire family.