Did Cristiano Ronaldo Just Send Lionel Messi a Message With This Iconic Gesture as Highest International Goalscorer?
Published 09/02/2021, 3:54 AM EDT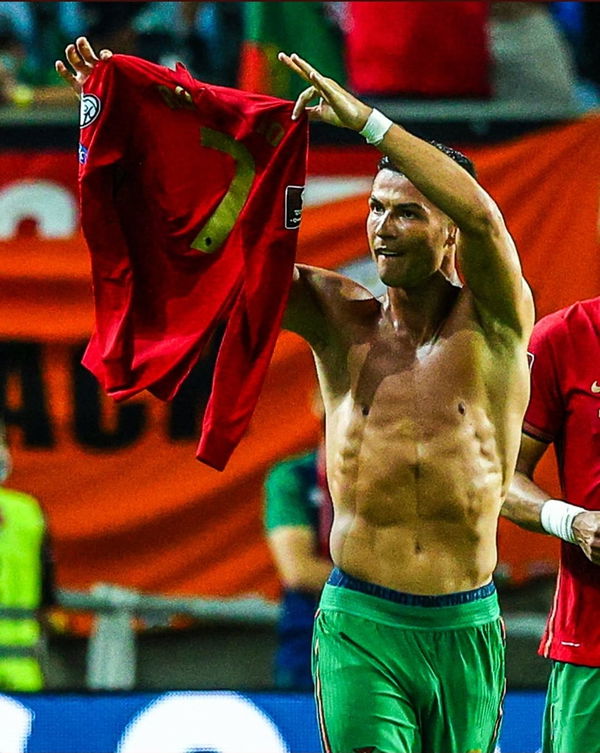 ---
---
Cristiano Ronaldo is one of the biggest names world football has ever seen. With a knack of scoring goals and leading his team to victories, the Portuguese goal machine impacts the game at will.
ADVERTISEMENT
Article continues below this ad
While his goal-scoring exploits are sensational, his rivalry with another superstar in Lionel Messi is perhaps the greatest rivalry football has ever seen. With two of the biggest superstars trying to outscore their opponent and win their plaudits, the duo have dominated the game for 13 years now.
ADVERTISEMENT
Article continues below this ad
Cristiano Ronaldo mimics iconic Lionel Messi celebration again
Cristiano Ronaldo entered yesterday's qualifier against Ireland with one goal shy of breaking Ali Daei's record. While he missed his chance with a penalty, the Portuguese turned it around in the dying moments of the game.
Scoring a 89th minute equalising header, the game was headed to a probably fairer result in 1-1. But Ronaldo was having none of it as he swooped in with the ultimate game winning header in the 96th minute. With this brace, Ronaldo now officially is the highest international goalscorer with 111 goals and counting.
After achieving this incredible feat and scoring the game winner, CR7 was incredibly ecstatic and even took off his shirt. He even raised his shirt to the home crowd who jeered him. This celebration is the exact celebration Messi did back in 2017.
ADVERTISEMENT
Article continues below this ad
Scoring a game winner in an El-Clasico, Messi's celebration became one of the most iconic moments of the 2016-17 season. But Ronaldo certainly didn't forget about the same. In the 2017-18 Supercopa against Barcelona, CR7 came in as a substitute.
The 5-time Ballon D'or winner made an instant impact as he scored a peach of a goal and also had an assist. After scoring a fantastic goal, Ronaldo took his revenge on Messi as he also raised his shirt like the Argentine.
ADVERTISEMENT
Article continues below this ad
Him mimicking Messi's iconic celebration against Ireland might be a statement for the 34-year-old to show who his real competition is. While they might be playing in different leagues now, one thing is clear, this rivalry is here to stay.
Seeing two of the biggest superstars battle it out for the biggest trophies for so long has been incredible. While they might be aging, they are still among the best in the world and fans should cherish this iconic rivalry while they can.