Gerard Pique Believes Jose Mourinho Rivalry Affected Pep Guardiola's Resolve at FC Barcelona
Published 09/07/2021, 2:02 PM EDT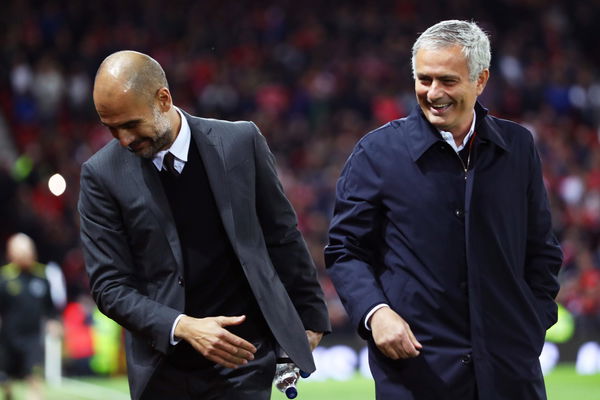 ---
---
Pep Guardiola's FC Barcelona was one of the best teams in football history. Barcelona reached the highest of highs under Guardiola in 2009 when he won the treble with the club. However, he unceremoniously exited the club in 2012 and FC Barcelona captain Gerard Pique revealed the details.
ADVERTISEMENT
Article continues below this ad
"We reached a moment of tension with him, not just me but the dressing room in general," Pique told La Sotana on Monday.
This was the same year in which Jose Mourinho was at the helm at Real Madrid. Being the two most winningest clubs in Spain, Madrid and Barcelona have a huge rivalry and the El Clasicos got incredibly heated. Pep and Jose had their own rivalry, and it was detrimental to Barca's dressing room.
ADVERTISEMENT
Article continues below this ad
"The rivalry with Jose Mourinho [at Real Madrid] wore us down a lot. Pep wanted absolute control over everything that was happening. If there was a moment I thought about leaving Barca, it was that [2011-12] season. I struggled in that last season with Guardiola," Pique revealed.
Pique had only joined the club in 2008 after spending four years under Sir Alex Ferguson at Manchester United. After seeing the highs of two UEFA Champions League wins in 2009 and 2011, Guardiola stepped down from his role at the end of the 2011/12 season.
It wasn't a failure of a season by any means as FC Barcelona won four trophies. The club finished behind Real Madrid in the League and lost to eventual winners Chelsea in the semifinals of the UCL.
Gerard Pique talks about his relationship with music icon Shakira
ADVERTISEMENT
Article continues below this ad
Pique also talked about how the stresses of his football career affected his romantic life. The Spanish center-back started dating Shakira in 2011, and the couple have two children now. He called their relationship perfect and added that he had a lot of pressure on his shoulders.
ADVERTISEMENT
Article continues below this ad
"I started dating Shakira and our relationship changed. Now, the relationship is perfect. But there was a lot of pressure on me then. I felt like I had to do everything in training perfectly," Pique revealed.