How Has Cristiano Ronaldo Scored All of His UEFA Champions League Goals?
Published 09/30/2021, 11:07 AM EDT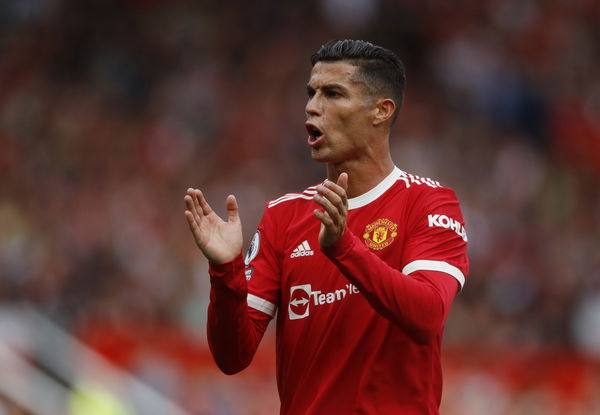 ---
---
Cristiano Ronaldo is one of the greatest goalscorers ever. However, the Portuguese truly comes alive on the biggest stage in the UEFA Champions League. He has the most goals and assists in the competition and has several more records to his name.
ADVERTISEMENT
Article continues below this ad
Ronaldo's match against Villareal helped him break another record as he broke the record for the most appearances in the competition. Moreover, he also helped Manchester United win their game against the Spanish club, as he scored a 95th-minute winner after a tough outing.
All of Cristiano Ronaldo's goals in the UEFA Champions League
ADVERTISEMENT
Article continues below this ad
https://www.instagram.com/p/CUaP2wIKppS/?utm_source=ig_web_copy_link
That goal brought his goal tally to 136 goals in 178 appearances. Transfermarkt uploaded a photo to their Instagram account where they broke down all of Ronaldo's 135 goals in the UCL before his match against Villareal. The forward has one of the most versatile skill-sets in football, and he has scored goals of all types.
Cristiano Ronaldo has scored 20 goals via penalties and 12 direct free-kicks. He has scored 56 goals with his right foot and 18 with his left. Moreover, out of the rest of his goals, 24 were headers, two counter-attack goals, two tap-ins, and one iconic long-distance shot against Porto.
Most of Ronaldo's goals in the UCL came during his time with Real Madrid. He scored 105 times for the club and helped them win the trophy four times. Also, he has 17 goals for Manchester United and 14 for Juventus in the competition.
ADVERTISEMENT
Article continues below this ad
The players behind Cristiano Ronaldo in the UCL top-scorers list:
Ronaldo is the top-scorer in the competition, but there are several other players who'll stake a claim to overtake the Portuguese in the future. Lionel Messi is second on the list with 121 goals in 151 appearances. However, there's a sharp fall in the numbers once we move past the two GOATs.
Bayern Munich's Robert Lewandowski is third with 77 goals, but his tally keeps increasing. Karim Benzema has found his form again, and he is already 4th on the list with 72 goals. Another Real Madrid legend, Raul Gonzalez, rounds out the top five with 71 goals.
ADVERTISEMENT
Article continues below this ad
https://www.instagram.com/p/CUaegSPoKbU/?utm_source=ig_web_copy_link