How Much Do NBA Stars Make Compared to Soccer Giants Like Lionel Messi and Cristiano Ronaldo? The Result Will Shock You
Published 02/06/2022, 4:30 PM EST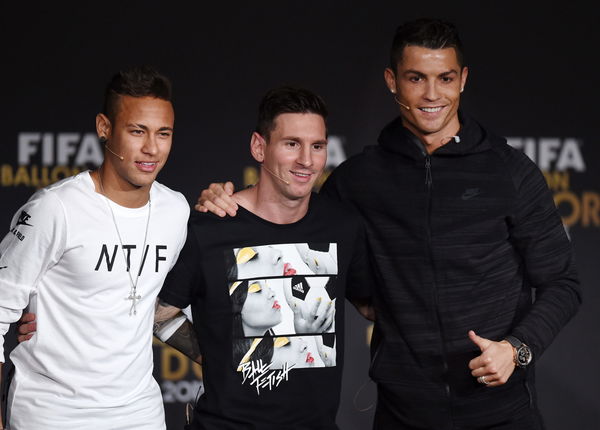 Football is the biggest sport in the world with the highest amount of fans and reach. The star power of players like Cristiano Ronaldo and Lionel Messi reaches far beyond the countries where they play. However, how does this translate in terms of the money that they earn?
ADVERTISEMENT
Article continues below this ad
The list of the top ten richest athletes in the world features three footballers in 2021, Ronaldo, Messi, and Messi's teammate from PSG, Neymar Jr. Moreover, it also features several prominent American stars like LeBron James, Kevin Durant, and Tom Brady.
However, these lists often compile money earned from sponsorships too, and are not just based on the earnings that the players make on the field.
ADVERTISEMENT
Article continues below this ad
The salary disparity between the NBA and Football
America has become a hub for sports, and organizations like the NBA and the NFL benefit majorly from the commercialized aspect of American sports. According to Forbes, on the list of the world's most expensive sports teams, only FC Barcelona, Real Madrid, and Bayern Munich make an appearance, while the rest of the list is dominated by American sports teams, especially the NBA.
This is apparent in the money that players earn too. While Cristiano Ronaldo, Lionel Messi, and Neymar Jr earn more than Steph Curry (the highest-paid player in the NBA), there's a huge drop in earnings after that.
According to a stat posted by FootballJOE on Instagram, the average salary from the top 50 earners in the NBA is £23.5m, almost £1m more than the fourth highest-paid football player (Andres Iniesta at Vissel Kobe).
 

View this post on Instagram

 
ADVERTISEMENT
Article continues below this ad
The list after Lionel Messi, Cristiano Ronaldo and Neymar Jr
The top ten earners in football also featured the likes of Kylian Mbappe, Robert Lewandowski, Paul Pogba, and Gareth Bale. However, all of them earn lesser than their counterparts in the NBA. Moreover, as we look at the list, only top-3 salary earners in football outrank the NBA.
ADVERTISEMENT
Article continues below this ad
Football does generate more revenue than the NBA on a regular basis, and this brings up the aspect of players being underpaid in football. Life is certainly much sweeter across the pond right now, and maybe football will evolve to be better.