'I am Incredibly Disappointed' – Landon Donovan Blasts 'Selfish' Weston McKennie in USMNT
Published 09/07/2021, 1:34 PM EDT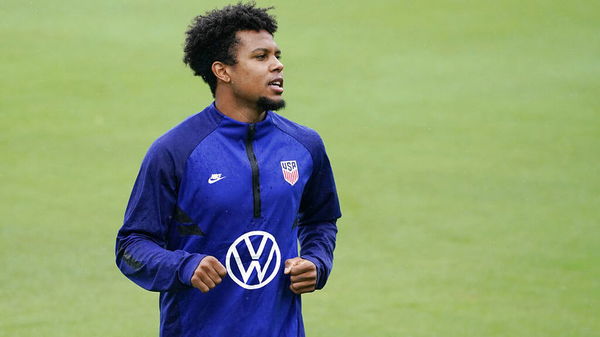 ---
---
Weston McKennie has found himself on the wrong side of the USMNT's wrath. The Juventus midfielder was sent back to Italy after he reportedly broke COVID protocols.
While USMNT head coach Gregg Berhalter excused McKennie's actions because of a 'violation of team policy', former US captain Landon Donovan didn't mince his words. Speaking to Grant Wahl on the Futbol podcast, Donovan revealed that Weston McKennie will need to repair his relationship with the entire squad.
While there was no official confirmation regarding the reason of McKennie's actions, Donovan revealed that it was related to COVID protocols.
"I am privy to what happened I'm not going to announce that publicly. I will just say, I am incredibly disappointed in Weston, incredibly disappointed. Look, I can understand Juventus during a long club season, you're sitting at home for months and months and months and you want to have people over. Is it the smartest thing to do? No, but I get it," Donovan revealed.
He didn't stop there and the 39-year-old criticized the midfielder further. He talked about the selfishness that McKennie displayed and called it inexcusable.
"This is one week of your life with three massive games, not only for yourself but for your team-mates and your country and the level of selfishness is beyond me. He is old enough to know you don't put yourself in this situation. Would they win the game if he is on the field? I don't know but their chances would go up a lot," he added.
Landon Donovan asks Weston McKennie to never repeat the mistake
However, the former USMNT star advised McKennie to never repeat his actions and added that the situation wasn't beyond repair.
"It doesn't mean he is a horrible human being and he can learn from this but this can never, ever, ever happen again," Donovan concluded.
The 23-year-old did put up an apology on his Instagram story and confirmed that he was indeed suspended. The Juventus star is young, and USMNT fans will hope that he learns from this incident.