'LeBrick Is Finished': NBA Twitter Goes Berserk as Brooklyn Nets Sign Rumored Lakers Target Paul Millsap
Published 09/02/2021, 1:11 PM EDT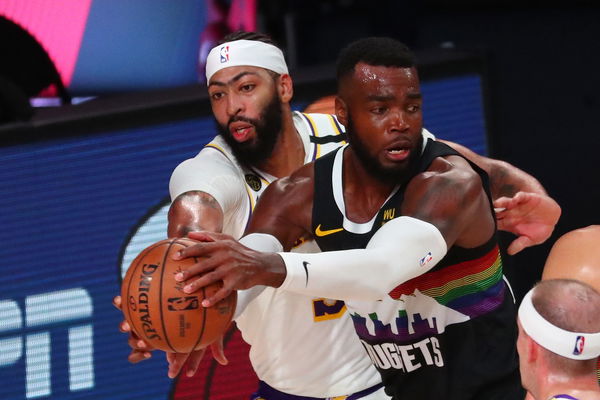 ---
---
Ahead of the 2020-21 season, two teams were the favorites to win the NBA title, the Los Angeles Lakers and the Brooklyn Nets. With star power like no other and a good supporting cast on paper, it was clear why both the teams were the big favorites to clinch the title.
ADVERTISEMENT
Article continues below this ad
A season and a bunch of injuries later, the two teams are still the favorites for the title for the upcoming 2021-22 season. But this time, the Nets and the Lakers have revamped their supporting cast and have brought in some much-needed reinforcements.
ADVERTISEMENT
Article continues below this ad
Brooklyn Nets sign Lakers' target Paul Millsap
The Lakers were by far one of the most active teams in the off-season. Adding former veterans, the Purple and Gold addressed major issues in their team this season. The Nets meanwhile made some minor moves with re-signing key players and signing some underrated rookies.
But a big name signing was still due for the Nets. One of the biggest remaining players in this free agent market was Paul Millsap. Millsap who has been solid forward for the Nuggets who unexpectedly not retained by Denver.
Rumoured with teams like the Lakers, Warriors and Nets, Millsap looked set to join a contender. Despite interest from the Purple and Gold, the Brooklyn Nets have swept in and have signed the forward. This is certainly a massive move for the Nets. While they were incredible offensively last season, they had a pretty mediocre front-court.
Often struggling to stop elite big men, the Nets conceded points easily. Millsap certainly can be a stopgap in the Nets' defense. Given how versatile he is and his ability to lock down multiple positions, the forward is an ideal fit for any contending team. Brooklyn will be extra delighted with the fact that the Nets stole away a prime target from their biggest contender in the Lakers.
Twitter reacts to Nets' signing Paul Millsap
NBA twitter went absolutely crazy that the Nets added an incredible talent like Millsap to a star-studded Nets team. While Brooklyn fans rejoiced, Lakers fans continued to barrage how the Lakers will still remain supreme.
The Nets and Lakers shouldn't be getting every player in the league that's a free agent

— PAPacersfan (0-0) (@Random10676483) September 2, 2021
Look more non defense my friends cremated grandmother will play better defense than the Nets 🤣🤣🤣🤣

— Kobe's chewed Jersey (@LAKeShowROAD218) September 2, 2021
ADVERTISEMENT
Article continues below this ad
Perfect, LeBrick is finished now

— 𝐋𝐞𝐖𝐞𝐬𝐭𝐛𝐫𝐢𝐜𝐤⭐️𝐒𝐡𝐨𝐰 💛💜 ³⁻⁷⁻¹ (@LeWestbrick) September 2, 2021
ADVERTISEMENT
Article continues below this ad
With the likes of Kevin Durant, Kyrie Irving and James Harden and free agent signings like Blake Griffin and Millsap now donning the frontcourt, the Nets have now become an even bigger threat to the Lakers. Who will prevail, the Nets or the LeBron James led Lakers?