Lionel Messi Can Be 'Cloned' After Barcelona Fan Acquires Genetic Material
Published 08/19/2021, 1:30 PM EDT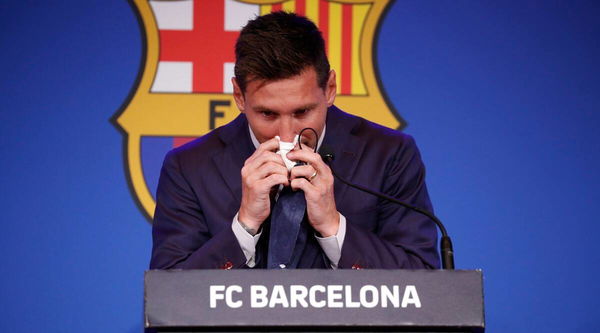 ---
---
Lionel Messi left FC Barcelona after playing there for 20 long years. His time at the club ended with a press conference and a lot of tears. However, those tears could be worth a lot of money to some fan with an affinity towards cloning.
ADVERTISEMENT
Article continues below this ad
Messi used a tissue to wipe off his tears during his farewell speech and the tissue is now on sale for $1 million. The Argentinian forward's used tissue was scooped up by a man was sitting in the front row of the press conference.
ADVERTISEMENT
Article continues below this ad
The tissue is being auctioned on Meikeduo, and the person auctioning it claimed that the tissue contained Messi's genetic material. His point was that the DNA would allow anyone to clone another football player like him. However, there's a lot of scientific ignorance in that statement the person made to Rojakdaily.
No one has bought the tissue yet, and it is hard to see someone paying that amount of money. Crazier things have happened when rare objects are involved, but this seems fairly straightforward. Moreover, the technology to clone a human being simply doesn't exist.
Lionel Messi and his transfer to Paris Saint Germain
The former Barcelona captain has a huge fan following, and PSG have already made millions off shirts bearing his name. However, Messi's arrival has completely transformed an already stacked PSG squad. Boasting the likes of Sergio Ramos, Kylian Mbappe and Neymar Jr., the French club have the best team on paper in the world.
ADVERTISEMENT
Article continues below this ad
If they deliver on the potential promise that this squad has, they'll go down as the best team in history. When you add the fact that PSG acquired players like Messi, Ramos, Gini Wijnaldum and Gianluigi Donnarumma on a free transfer, their business acumen seems all the more impressive.
ADVERTISEMENT
Article continues below this ad
The pressure is on their manager Mauricio Pochettino, now to build the team around these superstars. He failed to win the league last season, and if he fails to do it with this squad, his time at PSG won't last for much longer.