Lionel Messi's Former Teammate and Close Friend Invites Him to MLS in Final Years- 'He Would Have Fun and Be Happy Here'
Published 02/26/2022, 8:30 AM EST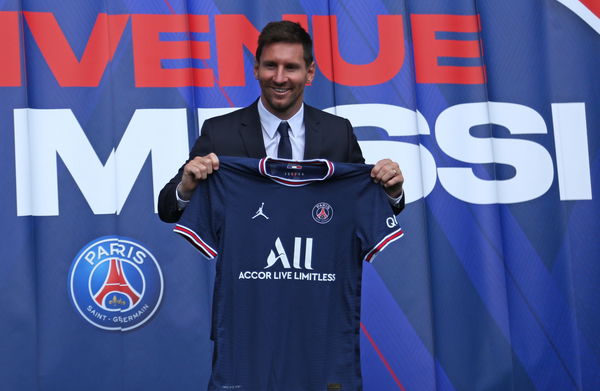 Lionel Messi is one of the greatest players of all time, and certainly one of the most influential athletes of this era. The Argentinian forward has broken record after record and even recently won his record-extending seventh Ballon d'Or award this season.
ADVERTISEMENT
Article continues below this ad
However, at 34, his best days are behind him and his numbers are starting to wane. Nevertheless, his fame and his star power are at their peak and any club would appreciate having a name like his on their roster. Currently, Messi is playing for Paris Saint Germain, after dramatically leaving FC Barcelona last summer.
ADVERTISEMENT
Article continues below this ad
Gonzalo Higuain spoke about the possibility of Lionel Messi in the MLS
However, he won't stay in France for long and hasn't really made a lot of plans for the future. However, his former International teammate, Gonzalo Higuain, has a few ideas for him. The Argentinian striker is currently playing for Major League Soccer side, Inter Miami.
The forward talked about his former teammate, Messi, in an interview with Stats Platform. He spoke about the growth of MLS, and that big stars are joining the league. He also added that he hopes Messi would join the league as it would benefit both the league and the superstar.
"It is a very important league and it is growing a lot. Important players are coming and I think that in the future it will continue to grow much more. I hope [Messi goes to MLS] because it would be a benefit for MLS and for the country, and if he so wishes he would have fun and be happy here," Higuain said.
ADVERTISEMENT
Article continues below this ad
Higuain wants to improve his numbers
The forward also talked about the fact that he wants to do better for the team this year. Inter Miami didn't really get off to a great start last season and would want to change it this time around.
"I want to improve my numbers, which I did my whole career, improve year after year. I hope that this year I can do better to help the team qualify [for the playoffs] and be able to compete for MLS," he added.
ADVERTISEMENT
Article continues below this ad
Do you think Messi will move to the MLS in near future?