'He Showed Me Positions' – Joshua Kimmich Opens up About His Relationship With Pep Guardiola
Published 09/14/2021, 3:39 PM EDT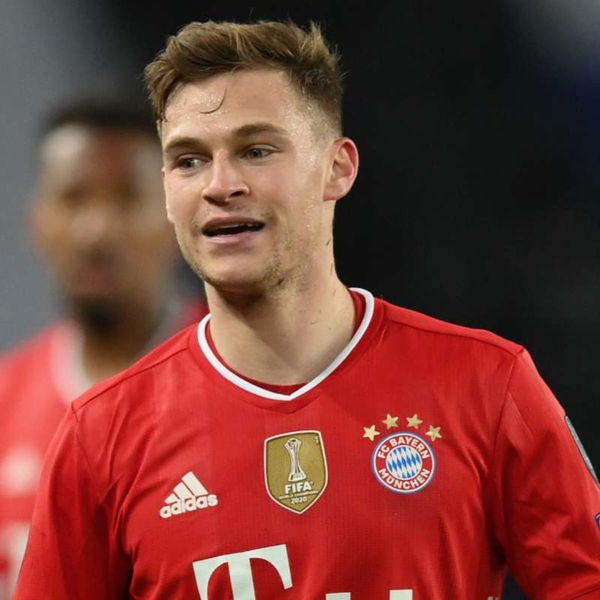 ---
---
Joshua Kimmich is one of the best players in world football right now. While there have been players who have been good in several positions, Kimmich takes it a notch further. The German international has a case for being not only the best right-back in the world but also the best central defensive midfielder.
ADVERTISEMENT
Article continues below this ad
Still only 26, the Bayern Munich stalwart has several years left at the top of the game. Bayern got him from RB Leipzig (who were in the second tier that season), when Pep Guardiola was still at the helm in Munich.
Kimmich talked about the influence that Guardiola had in his career and explained that the Spanish manager helped him improve his spatial awareness.
ADVERTISEMENT
Article continues below this ad
"He showed me positions in which I had never played before and in which I didn't even know I could play. And he showed me spaces on the pitch that didn't exist before for me," Kimmich said.
His game has certainly improved, and if he keeps progressing like this, Kimmich will go down as one of the biggest legends for his club and his country.
Joshua Kimmich explained the importance of knowing exactly where his teammates were on the pitch
This isn't the only time that Kimmich has talked about Guardiola teaching him new positions. The German midfielder spoke about Pep's influence on his game in a 2019 interview with the Daily Mail.
"I played different positions. With Pep, it's really important to know where teammates are at every moment and also where the opponents are. So you learn and get another feeling of the space," he explained.
ADVERTISEMENT
Article continues below this ad
Kimmich also talked about how the whole game of football can be viewed differently. The German's comments underline why Pep is considered the best manager in world football and credited with revolutionizing the modern game to what it is today.
ADVERTISEMENT
Article continues below this ad
"You know, every time you get the ball, I can pass it to this player and this player. You know where your teammates are, in which space. And so you think a bit different about the whole game of football," Kimmich concluded.