Manchester City Fans' Leader Asks Pep Guardiola to Stick To Coaching After Plea for Fan Attendance
Published 09/17/2021, 3:14 PM EDT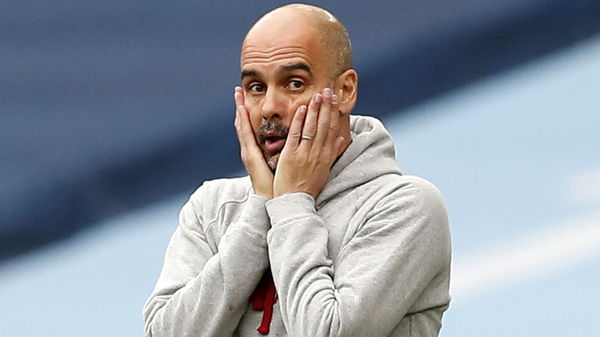 ---
---
Manchester City fans face a lot of flak for not supporting their team or going to their games. It has mostly been a misguided conception, and rivals exaggerate wherever they can. However, when the manager of the football club calls for more attendance, then there's a problem.
ADVERTISEMENT
Article continues below this ad
Pep Guardiola struck a nerve with a lot of City fans when he complained about the lack of home support in City's UEFA Champions League match against RB Leipzig. He asked fans to show up for their next match in the Premier League, at home to Southampton.
ADVERTISEMENT
Article continues below this ad
The General Secretary of Manchester City Supporters' Club, Kevin Parker, had a few words for the Spanish manager.
"He's absolutely the best coach in the world but, in the nicest possible way, I think maybe he should stick to that. He doesn't understand the difficulties that some people might have getting to a game at the Etihad on a Wednesday evening at 8:00 p.m.," Parker said.
Kevin Parker explains why City fans didn't show up for the game.
He also talked about the situation in England, with COVID regulations being only recently lifted, fans are still acclimatising to the new environment. The supporter also expressed his surprise and called Pep's words disappointing.
"They've got kids to think of, they might not be able to afford it, there are still some COVID issues about. I don't see why he comments on it. It did surprise me. I'm not sure what it's got to do with him. To question the support is disappointing and uncalled for," Parker said.
ADVERTISEMENT
Article continues below this ad
Manchester City beat RB Leipzig in their first UCL match.
While the supporters could've done a bit more for the club, the players did not disappoint. City beat Leipzig by a scoreline of 6-3 with five different City players scoring.
It would've been a better showing from the team if they hadn't conceded three goals to a brilliant Christopher Nkunku hattrick, but they still got the points and are now looking to finish top of their Champions League group.
ADVERTISEMENT
Article continues below this ad