Manchester City Ignore Sergio Aguero and Yaya Toure as Club Legends During Statue Unveiling Outside Etihad Stadium
Published 08/28/2021, 8:39 PM EDT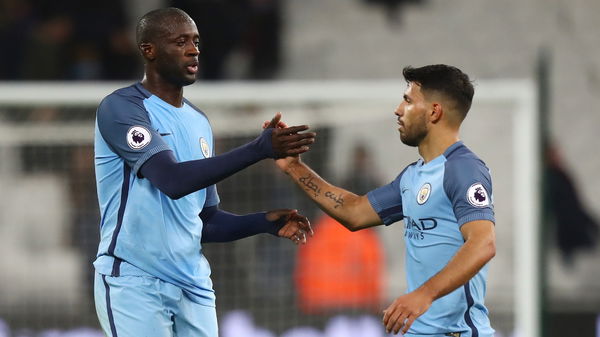 Manchester City over the years have solidified themselves as a European superclub. While they do not have the elusive Champions League trophy, City have been making strides as a superclub and even made it to the Finals last season.
ADVERTISEMENT
Article continues below this ad
But all of this were a rather far-fetched dream 11 years ago. While City had some decent players in the lineup, the club still had to address multiple problem areas and still fizzled out against the top teams like Manchester United. Their fortunes took a massive turn in 2011 though as they signed Sergio Aguero.
ADVERTISEMENT
Article continues below this ad
Aguero who was a certified goalscorer with Athletico, formed an incredible partnership with Edin Dzeko. City absolutely stunned everyone as they clinched the Premier League in dramatic fashion. Aguero in the process, became an instant club legend as he scored the title clincher.
Manchester City forget legends Sergio Aguero and Yaya Toure during statue unveiling
Man City might have been founded in 1880, but they showcased their true domination in the last decade. Winning four Premier League titles, the Cityzens have outshone giants like Manchester United and Chelsea in the last decade.
Some true legends have certainly been key to their success. Be it their talismanic captain Vincent Kompany, to attacking midfielder David Silva, City have had their fair share of quality players who have become legends in the club.
ADVERTISEMENT
Article continues below this ad
To celebrate their legends, City recently unveiled special statues outside the Etihad Stadium. Featuring Kompany and David Silva, these statues were unique and absolutely mind-blowing.
But it was rather odd to see that City missed out on legends like Sergio Aguero and Yaya Toure. Aguero who is the record goalscorer for the club, was the testament to consistency and was a goal scoring machine.
ADVERTISEMENT
Article continues below this ad
If not for his goals, City might have been a mid-table side. Arguably the harshest omission though was Yaya Toure. Before falling out of favour under Pep Guardiola, Toure was one of the most important players in the team.
Not only did he stop oppositions's attacks, the Ivorian chipped in with goals as well. Given his versatility on both ends of the floor, Toure was truly one of a kind and certainly deserves his recognition.