Neymar Jr. Vs Lionel Messi is on Again as FIFA Denies Argentina's Appeals
Published 05/09/2022, 3:38 PM EDT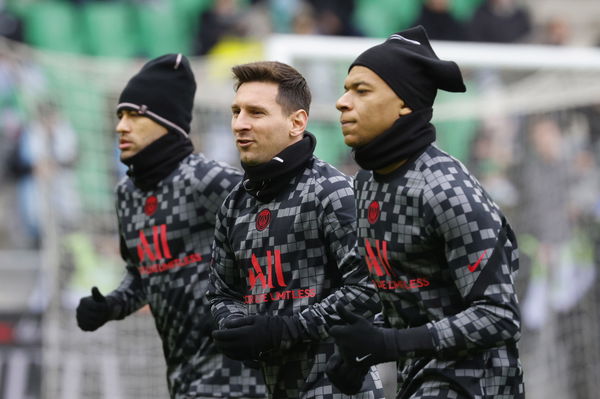 Paris Saint Germain teammates Lionel Messi and Neymar Jr are great friends in real life too. The pair was at the pinnacle of club football when they won the Champions League title with FC Barcelona in 2015. However, they haven't had the same success in their first season back together.
ADVERTISEMENT
Article continues below this ad
PSG got knocked out of the Champions League by Real Madrid after a brilliant comeback. The Los Blancos continued that trend and came back in their next two ties to reach the final of the competition. On the other hand, PSG was left ruing their luck after failing to win any cup competition this season, even in France.
Messi and Neymar have had subpar seasons for the club and will try to improve their performances next season. The World Cup is coming around in November, and naturally, both of them would want to be in form for that.
ADVERTISEMENT
Article continues below this ad
Brazil vs. Argentina set to be replayed
However, before any of that, Messi and Neymar Jr. are going to suit up against each other. Brazil and Argentina's World Cup Qualifier match in September was abandoned after several Argentinian players failed to comply with COVID regulations.
FIFA ruled that the match would be replayed, despite the fact that both the countries made it to the World Cup already. Argentina tried to appeal the decision, but FIFA denied their appeals and revealed the fines that both countries have to pay.
"After analysing the submissions of both the parties and considering all circumstances of the case, the Appeal committee confirmed that the match would be replayed. It also upheld the fine of 50,000 Swiss francs ($50,322) that was imposed on both associations as a result of the abandonment," FIFA's statement said.
ADVERTISEMENT
Article continues below this ad
Will this be the Last Dance for Lionel Messi?
Messi will be 35 by the time the World Cup rolls around and it could quite possibly be his last one. Messi has retired from international duty once before but changed his mind three days later.
ADVERTISEMENT
Article continues below this ad
It'll be interesting to see if he'll still want to play for Argentina after the World Cup, but by all accounts, it seems like this would be his last on the greatest stage of all in the sport.