Real Madrid Receive a Boost in Signing Kylian Mbappe as PSG Give Up
Published 05/17/2022, 3:14 PM EDT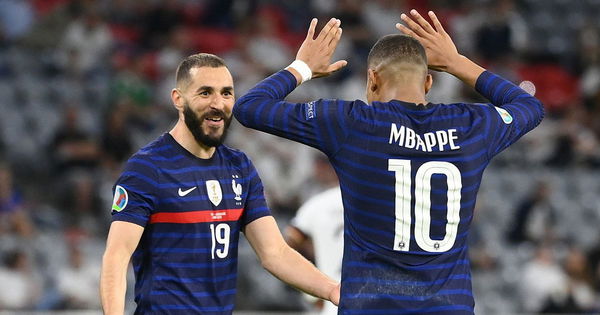 In this commercialized world of football, transfer values keep skyrocketing. The transfer of Neymar Jr from FC Barcelona started this trend and Paris Saint Germain were behind that. They could have been on the receiving end of that list too if they had let Kylian Mbappe go.
ADVERTISEMENT
Article continues below this ad
Real Madrid submitted a bid of around $200m to sign Mbappe last summer. The French forward had one year remaining on his contract, and any club would take that deal in a heartbeat, but not PSG. The club were hellbent on keeping their man and tried to get him to sign a contract extension.
However, one year later, Mbappe refused a contract that could have paid him around $300m in just three years.
ADVERTISEMENT
Article continues below this ad
PSG set to lose Mbappe to Real Madrid
The French World Cup Winner has said in recent interviews that he'll announce his decision soon. Moreover, a recent report by ESPN stated that PSG have now stopped their efforts as they are resigned to the fact that Mbappe is leaving.
It's highly unlikely that Mbappe would go anywhere else as contract talks with Real Madrid are going really well. Madrid have had a very successful season this year, as they have won La Liga with several games to spare. They have also made it to the final of the Champions League after three spectacular performances in the knockout stages.
The addition of Kylian Mbappe to this squad should make them even better. A front three of Kylian Mbappe, Karim Benzema and Vinicius Jr would be unstoppable.
ADVERTISEMENT
Article continues below this ad
Kylian Mbappe and his stats this season
Mbappe has been at PSG for five years and has kept improving every single season. This year he has made the leap to become one of the best players in the world and has truly proved his skills.
ADVERTISEMENT
Article continues below this ad
This season, Mbappe has scored 25 goals and 17 assists in 34 Ligue 1 games. Overall, he has 36 goals and 26 assists in 45 games for the club this season, an insane level of output that hasn't been matched by any player in Europe.
Edited By: Melroy Fernandes