Real Madrid's President Tricked an FC Barcelona Captain Into Joining His Club Through a Simple Wager- Here's How
Published 02/16/2022, 12:44 AM EST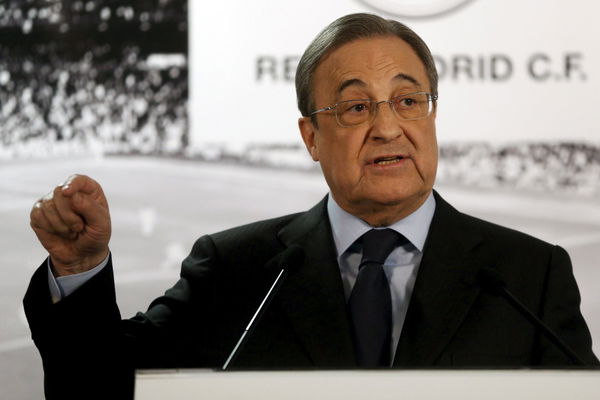 Real Madrid is one of the biggest clubs in the world, both commercially and in terms of success. The club was almost always among Europe's elite, but this level of success in its current era is because of one man, i.e. club president Florentino Perez.
ADVERTISEMENT
Article continues below this ad
The Spaniard brought in the Galacticos era at Madrid, the likes of which have set the blueprint for Madrid's success for several years to come.
ADVERTISEMENT
Article continues below this ad
Initially, this experiment didn't really work, as the first Real Madrid Galacticos team of the early 2000s under-delivered. The entire thing began with the transfer of Luis Figo, one of the most infamous transfer sagas in Spain.
How did Florentino Perez sign Luis Figo from FC Barcelona?
Figo was a superstar in the world of football in the late 1990s. Besides being Barca's best player at the time, he was a leader at the club. Perez wasn't the president of Madrid during that time and wanted to make a name for himself.
He did something that no one thought was possible, signing their biggest rival's crown jewel from right under their nose. Reportedly, Figo had signed a pre-contract agreement with Perez, which entailed that if Perez ended up becoming the Real Madrid president, Figo would have to join Madrid.
 

View this post on Instagram

 
If he failed to do so, Figo would have to pay a fine of 5 billion pesetas (around £22 million or $34 million) to Perez.
Florentino Perez deposited 44 million Euros at the Spanish federation to sign Figo, and with his promise of signing Figo, the Real Madrid faithful appointed him as their president.
Real Madrid ushered in the Galacticos era
At that point, Figo had no choice, as he couldn't pay the monstrous penalty for staying at FC Barcelona. Moreover, the club couldn't offer him a better deal than the one he was getting at Madrid. Figo and his agent accepted Perez's offer, and the club signed their rival's best player in 2000.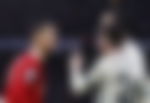 ADVERTISEMENT
Article continues below this ad
It caused a lot of outrage in Spain, and Barca fans were angered beyond belief. Every time Figo came to play at the Camp Nou, several things were thrown at him. The objects included bottles, coins, mobile phones, bricks, and once even a severed pig's head.
In the end, his arrival at the Bernabeu was vital as the club also signed players like Zinedine Zidane, the Brazilian Ronaldo, and David Beckham. Madrid immediately won the La Liga in 2001 and claimed their ninth UCL crown in 2002, where Zidane scored that beautiful volley.
ADVERTISEMENT
Article continues below this ad
However, that was the extent of their success, and the first era of the Galacticos was over.
Figo's departure will always be remembered in history, and Perez's genius will always haunt the Barca fans who had to see it all unravel in front of their eyes.