US Soccer Federation Makes Historic Announcement for USMNT and USWNT
Published 05/18/2022, 3:55 PM EDT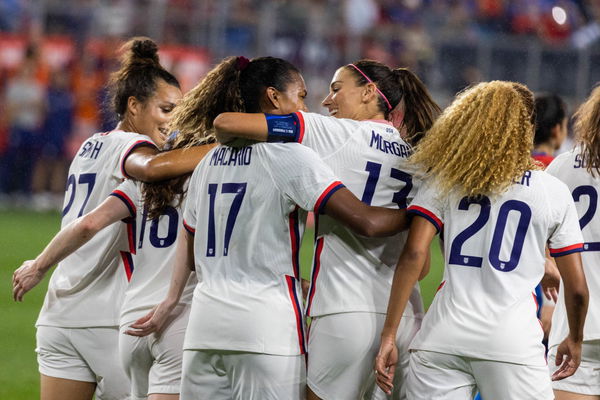 The fight for equal pay is one that several women are fighting on all fronts. It's been established already in several commercial sectors, but the world of sports hasn't accepted it yet. However, the USWNT has been advocating for equal pay for the men's and women's teams for several years now.
ADVERTISEMENT
Article continues below this ad
Players like Megan Rapinoe have spoken up for their demands time and again, and it looks like their efforts have finally paid dividends. The US Soccer Federation reached an agreement with the USWNT and the USMNT to pay them both equally.
They became the first governing body to do so among all federations in the world of football. The agreement equalized pay and bonuses between both teams.
ADVERTISEMENT
Article continues below this ad
In a historic accomplishment, U.S. Soccer, @USMNT and @USWNT have come together to agree to new collective bargaining agreements that will run through 2028 and achieve true equal pay – including equalization of World Cup prize money.

— U.S. Soccer (@ussoccer) May 18, 2022
USWNT forward Margaret Purce gives her views
Naturally, women around the world were very happy with the outcome and USWNT players have set a precedent to follow for federations around the world. US star Margaret Purce talked about it and expressed how she felt after the historic move.
"I feel a lot of pride for the girls who are going to see this growing up and recognize their value rather than having to fight for it. I'm not giving out any gold stars, but I'm grateful for this accomplishment and for all the people who came together to make it so," she said.
The growth of women's football in the USA has been constant as the women's league is growing stronger every single day. However, the fight for equal pay required the women's contingent to go to court, and hopefully, things won't have to be this hard for them in the future.
ADVERTISEMENT
Article continues below this ad
USMNT star Walker Zimmerman reacts
USMNT players were happy with the ruling too, as Walker Zimmerman talked about his excitement for the new deal.
"We saw it as an opportunity, an opportunity to be leaders on this front and join in with the women's side and U.S. Soccer. So we're just excited that this is how we were able to get the deal done," Zimmerman said.
ADVERTISEMENT
Article continues below this ad
Their actions would be replicated by many teams across the globe as the fight for equality isn't over yet, but this is a good start for everyone.
Edited By: Melroy Fernandes