USMNT Star in Talks With a Switch to Represent Mexico
Published 05/18/2022, 3:15 PM EDT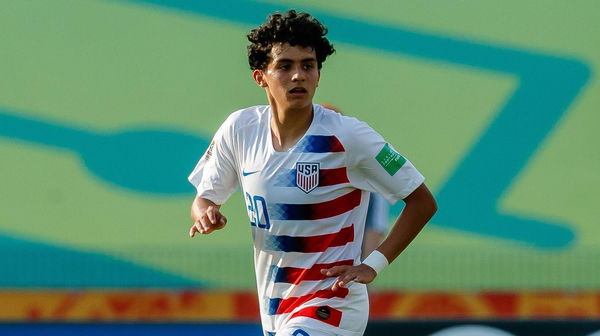 The USMNT have had several great youngsters through the years. Chelsea star Christian Pulisic is the country's captain at 23 and has a bright future ahead of him. However, he is not the only young star to represent his nation over the last few years.
ADVERTISEMENT
Article continues below this ad
USMNT coach Gregg Berhalter is known for giving young players a chance and he has brought several young stars up the ranks. Giovanni Reyna and Ricardo Pepi are two Bundesliga talents with a great future ahead of them. While on the other hand, Weston McKennie is already an established star in Europe.
That's not all, as the dearth of talent doesn't stop there for the nation. PSV Eindhoven midfielder Richard Ledezma could be next on the list of Berhalter's young superstars.
ADVERTISEMENT
Article continues below this ad
USMNT in danger of losing Ledezma to Mexico?
The 21-year-old has made one appearance for the USMNT and managed to get two assists. However, that debut came back in 2020, and since then he hasn't featured in the squad. Ledezma suffered a torn ACL in 2020 that sidelined him for almost a year before he finally came back in December last year.
Moreover, there were a few rumors going around that the young star is going to switch his national team to Mexico. Ledezma's parents are both Mexican and he can represent the nation. However, according to a report from ESPN, Ledezma has made no commitment to the Mexican Football Federation.
Still, ESPN's source added that Ledezma was indeed contacted by the federation.
ADVERTISEMENT
Article continues below this ad
Richard Ledezma and his future
As it stands, the 21-year-old is still going to represent the USMNT, and if things go well, he might even make it to the World Cup in Qatar. The Arizona native joined PSV Eindhoven in 2019 and has spent his professional career at the club since then.
ADVERTISEMENT
Article continues below this ad
His injury had sidelined him for a long time and Ledezma has had to fight his way back to the PSV squad. However, he is here now and even managed to score his first goal for the club in their match against Zwolle.
Edited By: Melroy Fernandes