"When the People Are Not Happy, I'll Leave" – Pep Guardiola Sends a Warning to the Manchester City Fanbase
Published 09/18/2021, 2:33 PM EDT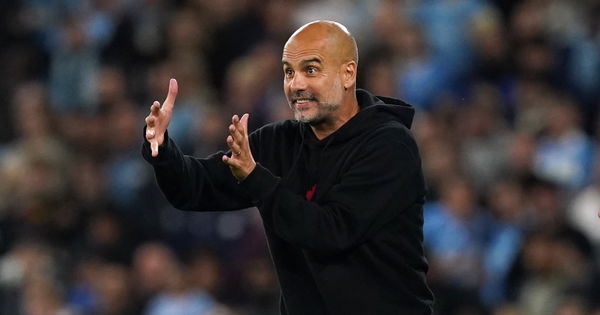 ---
---
Pep Guardiola shocked the world of football when he asked Manchester City fans to arrive in greater numbers for their match against Southampton earlier today. The unusual request from Pep was because of a worryingly low turnout for the club's Champions League match against RB Leipzig.
ADVERTISEMENT
Article continues below this ad
The UEFA Champions League match was attended by 38,000 people, which was drastically lower than the  50,000 who attended City's two Premier League matches. However, Pep's plea seemed to work as almost 53,000 people turned up for the match against Southampton.
However, City fans were still unhappy about Pep's comments and Kevin Parker, the General Secretary of Manchester City Supporters' Club, asked him to stick to coaching. The Spanish manager recently answered back and did not mince his words.
ADVERTISEMENT
Article continues below this ad
"We try to do the best football that's possible to make this contribution to the world of football, on the pitch and off the pitch. I'm very proud of the club I'm representing and until the last day I would do it. So when there's something wrong, I will say it," he said.
Guardiola reveals his love for the club.
The Spaniard joined Manchester City in 2016 and has now spent five years at the club. While he is yet to win the UEFA Champions League, he has won everything else that there is to win and loves the club a lot.
"When I don't like something, I'll say it here or privately. That is my job, that's why I get money. I do it, knowing my instinct, and never putting it above the club. And the most important part of the club is the fans. They should stay here. I'm part of them. I love this club. I'm part of this club," he revealed.
ADVERTISEMENT
Article continues below this ad
Pep Guardiola sends a warning for the City faithful.
However, the fairytale could soon be over as he has no qualms about leaving the club if the fans don't want him to stay. Guardiola showed his anger with Parker's comments and stood by his statement.
Watch This Story
"I'm so upset, I'm grumpy, and disappointed this guy will pretend to tell me what I have to say, what I have to do. I know exactly my intentions. When the people are not happy with me, I will leave," Guardiola warned.
ADVERTISEMENT
Article continues below this ad