"Win the Champions League" – Arsenal Signing Martin Odegaard Shares His Lofty Ambitions
Published 09/12/2021, 2:45 PM EDT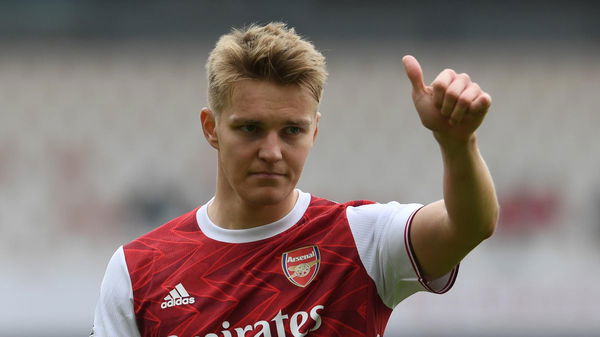 ---
---
Arsenal is in a tough spot right now as they sit in 16th place in the Premier League table. They were dead last before their win over Norwich, who are yet to get a point, but things aren't much better now. However, that doesn't stop their players from dreaming about trophies, and new signing Martin Odegaard is one such man.
ADVERTISEMENT
Article continues below this ad
The 22-year-old Norwegian shared his ambitions for his time in North London in an interview with Sky Sports. He only arrived this season after he had a good time last year during a loan spell from parent club Real Madrid. The reporter talked about the club's immediate goal, and Odegaard said, "To get the club up the table, to the top of the league and to fight for European football and to fight for trophies."
ADVERTISEMENT
Article continues below this ad
He also talked about the standards that Arsenal has, and should have. The super teams of Arsene Wenger are long gone now and the club has finished in 8th place in the Premier League, two seasons in a row. However, there's still some hope in Odegaard's mind.
"For this season, obviously we want to get back to European football. That would be important for us; for the players, for the club, for the fans. And then hopefully with time, win trophies, the Champions League, and hopefully win the Premier League within a couple of years. That's how it should be at this club, that's the standard," Odegaard said.
Arsenal and their sorry start to the Premier League season.
ADVERTISEMENT
Article continues below this ad
Arsenal's zero points in three games wasn't an exaggerated picture of their efforts. They faced Premier League champions Manchester City and UEFA Champions League winners Chelsea in two games. However, their loss to newly-promoted Brentford FC on the first day of the season was bad.
ADVERTISEMENT
Article continues below this ad
The fans had a meltdown as the club put in another sorry performance, and were steamrolled by Brentford. They did put in a good performance against Norwich City FC, who are now dead-last in the Premier League table, but it'll be interesting to see where they go from this win.