Zlatan Ibrahimovic Admits He Purposely Attacked Spanish Player in Match: "I'll Do it Again"
Published 11/23/2021, 1:09 PM EST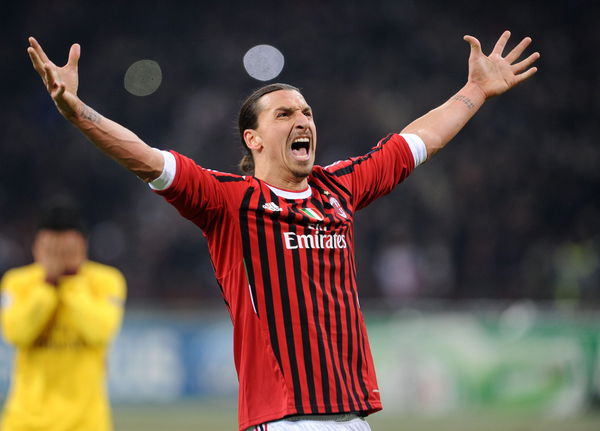 ---
---
Apart from being a sensational player, Zlatan Ibrahimovic is also one of the most infamous characters in the world of football. The Swedish International is 40-years-old now but is still scoring goals for a top club like AC Milan in Serie A.
ADVERTISEMENT
Article continues below this ad
However, despite his amazing performances, Ibrahimovic often makes headlines for his reckless actions on the field. He recently sparked controversy for shoving Spanish defender Cesar Azpilicueta to the ground, when Sweden had a corner. While it didn't seem intentional at first, Zlatan came clean with no regrets about it.
ADVERTISEMENT
Article continues below this ad
"I did it on purpose": Zlatan Ibrahimovic reveals
Zlatan Ibrahimovic gave a recent interview where he talked about the infamous tackle. He justified his actions as retaliation to Cesar Azpilicueta's previous altercation with a young Swedish player who was lying down on the floor.
"The other day in the national team, I gave a tackle to [Spain's Azpilicueta]. I did it on purpose. I'm not ashamed to say it because he did something stupid to my player. Acting big to my player. It was a stupid thing but I would still do it to make him understand: 'You don't f**king do that. You don't have b*lls to do it against me. But I will show you what happens if you do it to me. That's why I did it," Ibra said.
 

View this post on Instagram

 
Ibra says that he'll do it again
Sweden missed the playoffs, but that didn't seem to matter to Ibrahimovic. He revealed that Azpilicueta was out of line for doing that to his 20-year-old teammate. Hence, he wanted the Chelsea defender to understand what it felt like to attack someone lower than himself.
ADVERTISEMENT
Article continues below this ad
"It's not about missing the play-offs. It's about making the guy understand you don't take the p*ss out of somebody laying [on the ground]. You don't attack a dog that doesn't talk. Attack the one able to do something. It's too easy to pick on my teammates who are 20 years old and very nice guys. I hope he understands now," Zlatan added.
ADVERTISEMENT
Article continues below this ad
However, Ibrahimovic did say that he did a stupid thing. Nevertheless, there was no doubt in his mind that he won't do it again. Do you think the tackle was justified?