Steven Gerard's Rangers Hold Weary Arsenal to Draw in 4 Goal Thriller
Published 07/17/2021, 3:43 PM EDT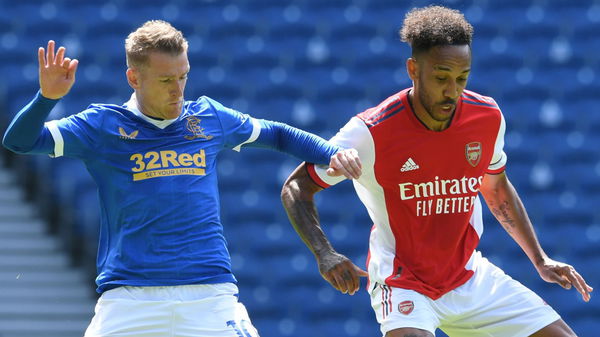 Arsenal have been one of the biggest clubs in the Premier league for a while now. But the Gunners are going through a pretty rough patch right now. Missing out on Europe and the team lacking consistency, Arsenal have fallen behind in the league.
ADVERTISEMENT
Article continues below this ad
The Gunners are clearly in a rebuilding stage right now. With a young head coach in Mikel Arteta and stars like Aubameyang and Bernd Leno, Arsenal are still figuring out their best lineups as well as their play style.
ADVERTISEMENT
Article continues below this ad
Arsenal disappointing as they draw against Rangers
After ending the season in a disappointing eighth place in the league, Arteta and Co. clearly know that they have take make some adjustments to become one of the top teams in the Premier league. Given the history of how successful the London based club was, Arsenal will be aiming for a possible finish at the top 4 spots or the top 6 at bare minimum.
But their off-season hasn't gotten off to the best start possible. After losing their first game against Scottish side Hibernian, the Gunners faced off against the Steven Gerrard led Rangers FC. The game got off to an electrifying start as the hosts took the lead in the 14th minute.
ADVERTISEMENT
Article continues below this ad
Arsenal made a comeback and tied the game with new signing Nuno Tavares tying the game. While Rangers did not have majority of the possession, they created some good chances. It ultimately paid off though as they took the lead with 15 minutes remaining.
But the Gunners did not back off as they equalised yet again in the 83rd minute. The game ultimately had a fair ending as Rangers held off Arsenal 2-2. The Gunners will hope that they don't carry on this form when the season starts.
ADVERTISEMENT
Article continues below this ad
Arsenal's next pre-season game comes up against a formidable opponent as they face the newly crowned Italian champions, Inter Milan. While the Gunners do have some talented players, they might have to make some big changes if they want to succeed.
From getting a new center midfielder to solidifying their defense, Arsenal have to address multiple issues in their team to get back to the top. As stringent their spending has been, getting in aging veterans like Willian is surely not a solution. Will Arsenal go all-in this transfer window and answer their roster gaps? Do you think the Gunner can make a run for the top six in the Premier League?