Soccer-Premier League see-saw typified by Newcastle win at Tottenham
Published 12/14/2015, 11:03 AM EST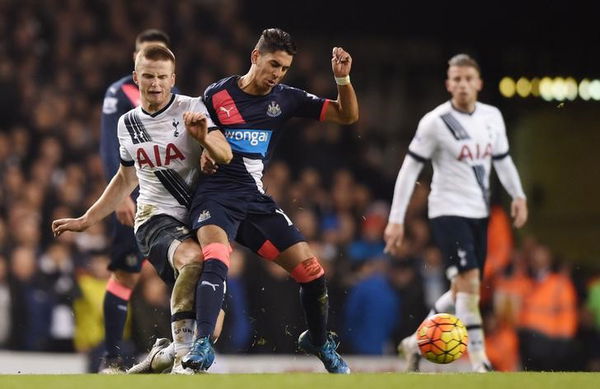 ---
---
By Ian Chadband
ADVERTISEMENT
Article continues below this ad
(Reuters) – The unpredictability of a barmy Premier League season was underlined by Tottenham Hotspur's 2-1 home defeat by struggling Newcastle United on Sunday, which left bewildered home manager Mauricio Pochettino scratching his head.
On a weekend which had already seen mighty Manchester United humbled by Bournemouth, the week after the south-coast underdogs had also won at Chelsea, no result ought to really be a surprise anymore in a league that is so competitive and capricious.
ADVERTISEMENT
Article continues below this ad
Here was another mystifying one.
Spurs, on a record 14-match unbeaten run in the Premier League era for the club, seemed to be sailing to another win, which would have put them above Manchester United into fourth place, when Eric Dier headed them in front in the first half.
Yet Newcastle, who looked a demoralised crew out of ideas just a fortnight ago, somehow found the reserves of spirit and resolve to do what they had done gleefully in beating Liverpool 2-0 the previous week — take the wheels off a bandwagon.
Yet when their manager Steve McClaren, recently public enemy number one on Tyneside, brought on strikers Aleksandar Mitrovic and Ayoze Perez in the second half, even he could not have imagined they would prove the Magpies' match-winners.
The Serb Mitrovic scored with practically his first touch, bundling home the scruffiest of goals, while the 22-year-old Spaniard Perez struck in stoppage time with a volley which went straight through the usually solid Hugo Lloris in goal.
"Our first half was fantastic, we dominated the game. The second is not easy to explain," a baffled Pochettino told reporters. "No-one would expect this end to the game if you see the first half.
"We need to assess and analyse the second half because it is impossible to see the team playing in such a different way."
FANTASTIC CHARACTER
Equally, McClaren would not have been able to explain how a team so completely woeful in the 5-1 capitulation at Crystal Palace two weeks ago could have been so excellent here.
Their third straight win at White Hart Lane represented an achievement that Newcastle had not accomplished in 104 years.
"We haven't had a comeback win for over a year. The team have shown fantastic character," McClaren enthused.
"There's still a long way to go but after a lot of criticism the players have come back well to get two magnificent results. They showed fantastic effort, attitude, work-rate and we have some talented players as well. We deserved the win."
ADVERTISEMENT
Article continues below this ad
Pochettino has often mused on how Tottenham's Europa League commitments have affected their weekend form but here he refused to credit fatigue following their Thursday win over AS Monaco as a factor in Newcastle's come-from-behind win.
"It wasn't about the energy," he said.
Rather, it was about a competitive league in which no team is equipped to dominate and nobody is ready to roll over.
ADVERTISEMENT
Article continues below this ad
(Reporting by Ian Chadband; Editing by Ken Ferris)