Sochi uncovered – the inside track on Russia's first F1 circuit
Published 10/11/2014, 2:03 PM EDT
By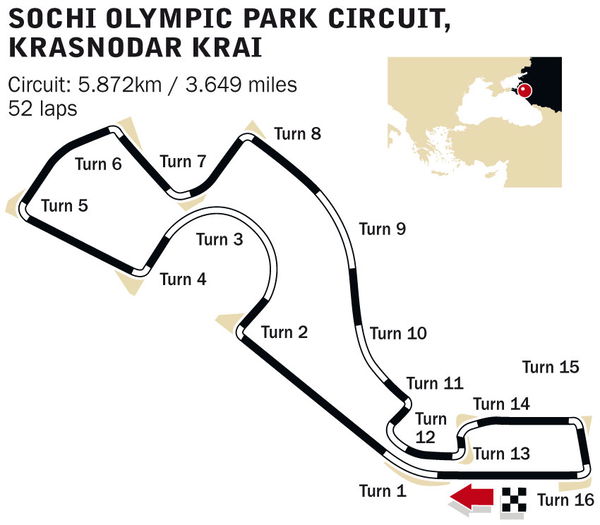 History will be made this weekend as Russia hosts its first Formula One Grand Prix at Sochi Autodrom. Amid the building excitement, the new venue also throws up plenty of uncertainty for the teams to contend with – whose ca for example, will be most naturally suited to the track? Which drivers will adapt quicker? From the key corners to the best overtaking spots, and from fuel consumption to expected speeds, the man behind the track's design, Hermann Tike, gives us an exclusive inside line on what we should expect.
ADVERTISEMENT
Article continues below this ad
No matter how extensive the preparations have been, how detailed and accurate the simulations are, Formula One racing's first visit to Russia is inevitably a step into the unknown – and that means potentially massive advantages for whichever teams are able to hit the ground running in Sochi.
The drivers have now had the chance to walk the track at least, but it will not be until Friday and the start of FP1 that they will get the chance to experience the track in earnest – and thereby discover how reliable their pre-event recreations have proved. But while they wait, one man is uniquely placed to offer an insight into the vast range of challenges posed by Sochi prior to the weekend steps forward Hermann Tilke, the man responsible for designing and shaping F1 racing's newest venue.
ADVERTISEMENT
Article continues below this ad
"First off, the circuit has been laid out to fit with the Olympic park," he explains of the basic layout. "That was already designed when we came in, so we had to fit in around the stadiums. It was quite challenging, of course."
"But what we have produced, first and foremost, is a very fast circuit – the average speed will be around 210km/h, with top speeds of around 320. We have utilised a lot of corners with different radiuses; they aren't the same, so that will tax the drivers. We have the slower back section, the last part of the circuit, where drivers can lose a lot of time. And then there's the Turn 2 complex. In the race that section will be really important – the key section."
Turn 2 officially encompasses the 90-degree right hander at the end of the main straight, and the small left-hand kink that leads into the long, sweeping Turn 3 bend that curves around the outside of the Olympic square medal plaza. Tilke estimates that drivers will approach the section at around 120km/h, but will have accelerated to around 200km/h before braking once more for the right-hander of Turn 4.
It's those transitions, and the challenge of managing them while maintaining speed, that Tilke thinks could prove the foundation of victory in Sunday's race.
"For the race it will be key," he says. "The long left hander, with cars accelerating through it, will be massively complex. It will also be a massive test for the tyres – it will hurt them all through the corner. Push that too far and the tyres won't work as well over the next part of the lap – while at the end of a race stint, some drivers will have much more wear than others. The difference between car performances as a result of that corner could be very high."
Comparisons have already been drawn between Sochi and other F1 circuits – the Valencia Street Circuit in Spain, and Singapore are common parallels, while Sochi's Turn 3 has earned association with the famous Turn 8 section of Turkey's Istanbul Park Circuit. Tilke, incidentally, plays down such comparisons, saying instead that Sochi is "quite unique – I don't think [it compares to other circuits]."
That said, one challenge teams will have previous experience of is managing what are expected to be massive improvements in grip levels over the course of the weekend.
"It's a brand new track, so like every new track grip levels will be low at the beginning," Tilke says. "The surface is similar to other circuits we have done – it hasn't been used so it's brand new, and we know that means it will be very slippery at the beginning. Over the weekend, though, it will improve throughout – and that will be a challenge to manage."
In terms of teams' groundwork, data from Singapore is likely to be the most reliable guide, as Remi Taffin, Renault Sport F1 head of track operations, explains. "While a new race requires a lot more preparation before we go, we have been able to work quite efficiently by using data from other circuits with similar traits. It helps, for example, that we visited Singapore relatively recently, which has the same blend of tight corners linked by intense straights."
"From our simulations we see that approximately 56 percent of the lap [will be] spent at wide open throttle, well above the 'traditional' street average. The lap opens with a short burst of wide open throttle – the pit straight blends into a right hand curve where the driver will keep the speed until the braking-point for Turn 2, giving a total burst of speed for some 14 seconds. The ICE and turbo will therefore be put under pressure, but there is [then] only one other period of duress round the lap for these parts."
Tilke concurs, saying that while the heavy acceleration and braking zones are likely to tax the energy recovery systems, they won't be a decisive factor in the race – and that another component is likely to have a far more critical role in race performance.
"It's likely to be heavy on fuel and on brakes, but teams should be on top of that," he says of the Sochi track. "They have enough experience and capacity to deal with that."
"But tyres – tyres will be the biggest problem. This track will work the tyres very hard. Managing that could make the difference."
As for overtaking, there are several likely spots to execute a pass. On top of the back section and corners like the right-hander of Turn 13, which Renault have pinpointed as a good opportunity, Tilke feels the first part of the circuit could again be crucial.
"You will have massive out-braking opportunities going into Turn 2," he explains – a fact exaggerated by the layout of the subsequent left-hander, which means a driver can afford to brake deep, compromise their line through the turn and still keep their rivals behind them. "On top of that, you might also be able to line up moves through the next two right handers, Turns 4 and 5."
How the theory plays out will be fascinating to watch – just like the teams, Tilke conducts his own simulations throughout the design and construction phases, but as Tilke admits "it is never 100 percent accurate – even if it is almost there!"
ADVERTISEMENT
Article continues below this ad
But that element of uncertainty is part of what makes the inaugural Russian Grand Prix so intriguing and compelling. Nico Rosberg, who comes into the weekend 10 points behind title rival and Mercedes team mate Lewis Hamilton, is by no means a lone voice when he says: "We've never been there, so it is very exciting. It's a new track so we've spent a lot of time in the simulator, practicing and trying to get the gears and lines right – that's very important."
The record books show that, of the last six new circuits to join the Formula One calendar, four different teams and drivers have triumphed – which becomes five on both counts if you also include Austria's return following an 11-year absence earlier this season.
There is every reason to believe then that Sochi, both via the element of the unknown and a unique track layout, could throw up a surprise or two this weekend. As Tilke puts it: "Sometimes you have bad races, sometimes you have great races – you never know. But I think for a variety of reasons this weekend will be very interesting."
ADVERTISEMENT
Article continues below this ad
Jules Bianchi, on the other hand, still remains 'critical but stable'. He is being treated in Japan after he collided into a recovery crane that was recovering Sutil's car. Marusia will be racing with only one car to show their support for Jules.